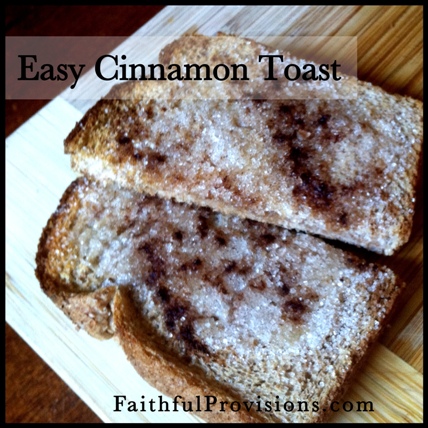 Cinnamon toast is one of those special foods that I vividly remember from my childhood. My favorite part was eating the bite where the butter pat had melted. So, naturally, my favorite part of this cinnamon toast recipe is the place where the butter is.
*Scroll down to use print recipe feature and add to your Recipe Box.
How To Make Cinnamon Toast
Learning how to make cinnamon toast as an adult called for some adaptation from the recipe for cinnamon toast that I grew up on. The crunchy, sweet slices of cinnamon toast that I enjoyed for breakfast (or even a snack) had four pats of butter, distributed evenly across the square shape of the bread. As a mom, I want to make it even better and more buttery for my children, so I use softened butter spread across the entire piece (more to love!).
Best Cinnamon Toast Recipe
I think you'll find this is the best cinnamon toast recipe, and it is so simple. My kids ask for this daily. Often, it is our afternoon snack, so we go through quite a bit of bread around here. I recommend using a toaster oven if you have one, so you aren't heating up the whole kitchen.
Easy Cinnamon Toast
Ingredients
4 bread slices (whole wheat or white)
3 tablespoons butter, softened
4 teaspoons sugar
1 teaspoon cinnamon to sprinkle (approximately)
Instructions
Lay bread slices out on a cookie sheet.
Spread softened butter over each piece of bread, covering completely. Be generous, this is the best part. (Oh, and don't use anything but real butter, organic if you can. Just tastes amazing!)
Sprinkle generously with sugar.
Sprinkle lightly with cinnamon.
Bake in a 350 degree oven for 6-7 minutes, or until lightly browned.
Did you enjoy cinnamon toast when you were a kid? How do you make it today?
Recipe developed by Kelly Hancock ©2010 Faithful Provisions. For personal use only. May not be reproduced, reprinted or distributed for capital gain without prior permission from Kelly Hancock.