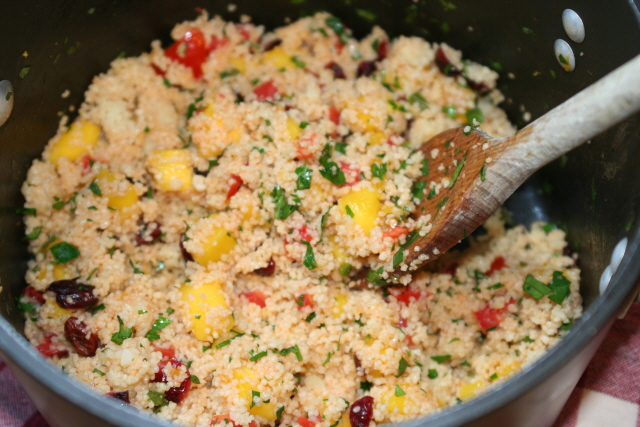 This Mango Couscous is perfect to make when you can find mangoes in season and on sale. (Usually, these are on sale when avocados are on sale. And actually, I bet avocados would be great in this dish too!) Often you will find couscous on sale as well. I stock up when I find it on a buy one, get one free sale. I served this easy recipe for couscous with an amazing
Grilled Fish, Ceviche Style recipe HERE
that Bradford made, and it is now my favorite meal. Enjoy!
*Scroll down to use print recipe feature and add to your Recipe Box.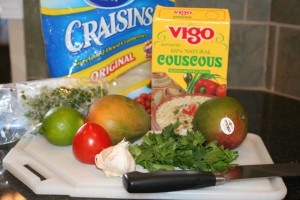 Mango Couscous
Ingredients
¾ cup raw couscous
2 tablespoons olive oil, plus more for couscous
1 clove garlic, minced
1 mango, peeled and medium diced Learn how to cut a mango with Kelly's video tutorial HERE
1 jalapeno, finely chopped
½ cup raisins or craisins
1 ripe tomato, chopped (I have also used grape tomatoes)
2 tablespoons fresh lime juice
¼ cup chopped fresh cilantro
¼ cup chopped fresh parsley
½ teaspoon salt
Instructions
Prepare 2 servings of Original Couscous according to package instructions. (You'll start with ¾ cup raw couscous.)
Heat 1 tablespoon olive oil on medium high in a large saute pan.
Add garlic, mango, and jalapeno.
Saute for 2 minutes.
Add 1 tablespoon olive oil.
Add remaining ingredients to mix, including couscous.
Stir until heated through and serve.
I love serving this with my recipe for Grilled Fish, Ceviche Style HERE.
Be sure to print my FREE downloadable Seasonal Fruits and Veggies Chart HERE.
Thanks to reader Angela for this recipe!