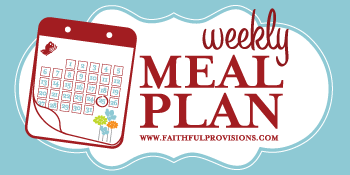 Need ideas for your weekly meal plan? I'm listing some of the things on sale at your grocery stores and then following that with recipes from my Recipe Box that coordinate with those sales. Let me know if you like this and if it helps you out with planning your meals this week.
*If you think it's something your friends could use, please share it on Facebook using the button above!
Click on a Plan Below
My Weekly Meal Plan
Not surprisingly I got off plan a little last week so you will see a few repeats from last week. I am loving all the produce deals, in-season produce is the best! Since we have so much in the freezer, I have been going to the grocery only to stock up on produce and a few odds and ends, but I can't wait until next Monday to hit all the Easter clearance deals.  Perfect for my Operation Christmas Child shoebox. Anyone else have a box started yet?
Sunday: Hot Dogs, Smores, mini-carrots, cantaloupe (Spring Break Camp Out in the Back Yard!)
Monday:  BLT's, cantaloupe
*I cooked a big batch of bacon which will work for tomorrow night's dinner too!
Tuesday: Open-Faced Chicken, Bacon and Grilled Onion Sandwich, green salad
Wednesday: Mini Cheddar Meatloaves
Thursday:  Roasted Chicken, rice and spinach-avocado salad
Friday: Pizza Night! Homemade Pizza Dough with Homemade Pizza Sauce
*Since we have chicken, this will probably be my favorite BBQ Chicken Pizza!

Saturday: Cheesy Tomato Stroganoff
What is on your weekly meal plan this week? I'd love to hear your ideas!
Any Store Meal Plan
You will find great deals on sweet potatoes, ham, and eggs this week as we look toward Easter Sunday! Wherever you shop, here are a few recipes that will make "cents"!
Find out What to Buy When in Apriland stock up on food items at their lowest prices!
KROGER (Prices good all week)
There are some good prices on ham and baking items for your Easter meal. Kroger is also continuing the $4 off your order when you buy 4 participating P&G household items.
Enjoy this week's produce specials, which include Sweet Corn ($.33/), Asparagus ($1.77/lb), Pineapple ($1.99), Strawberries, 16 oz ($1.99), and Sweet Potatoes ($.49/lb).
In the meat department, you'll find deals on ham and turkey, all at great prices: Cumberland Gap Whole Semi-Boneless Ham ($1.79/lb), Private Selection Spiral Ham ($1.99/lb), and Frozen Turkey Breast ($1.49/lb).
Looking for Organic options? Kroger has great deals on Organic Gala Apples ($1.49/lb), Organic Salad Mix, 5-9 oz ($2.99), Kashi TLC or Heart to Heart Crackers ($3.00), and Organic Vegetable Trays, 16 oz ($4.99).
STOCK UP on Kroger Broth or Cream of Mushroom or Chicken Soup ($0.50), Kroger Spices (50% Off), and Rice A Roni or Pasta Roni ($1.00). These are great items for your local food pantry too!
:: See all the Kroger Deals HERE.
PUBLIX (Prices good all week)
This week, Publix has a HUGE ad, and it runs longer because of the Easter holiday. Instead of expiring on Tuesday, this ad expires on Saturday, April 7th. (Remember, all Publix stores are closed on Easter). Don't forget to see all the Publix deals HERE. As you might expect, there is lots of Easter candy on BOGO sale this week. The best deals, however, will be after Easter.
Don't miss these deals in the produce aisles: Sweet Potatoes ($.49/lb), Florida Cucumbers ($.50), Georgia-Grown Greens, Collards, Kale, Turnips or Mustard ($2.00), and Asparagus ($2.49/lb).
It's one of the best times of the year to purchase ham. In the Publix meat department, you'll find Publix Premium Semi-Boneless Ham Half ($1.69/lb). Also, this is the season for great deals on Semi-Boneless Whole Leg of Lamb ($5.99/lb). If you're not into either, no worries! Publix has Rump Roast ($4.99/lb).
STOCK UP on Ocean Spray Craisins, 5 to 6 oz, (excluding Chocolate Covered) ($1.22), perfect for my Easy Couscous Recipe with Mango. Hunt's 100% Natural Tomatoes, 14.5 oz – $0.69, Pam Cooking Spray, 5 to 6 oz – $1.74, Wish Bone Dressing, 16 oz ($.32 with the coupon listed in the Publix Matchups HERE), Duncan Hines Moist Cake Mix, 16.5 to 18.25 oz – $0.91, and my favorite, Hellmann's Mayonnaise, 30 oz ($2.36). Check out the Hellmann's Chicken Challenge HERE and get some great new budget-friendly recipes!
GREAT FOR YOUR LOCAL FOOD PANTRY: Del Monte Canned Vegetables, 11 to 15.25 oz, (excluding Specialty Varieties, Asparagus, or Sweet Peas: Regular, Low Sodium, or No Sodium added) ($0.69).
:: See all the Publix Deals HERE.
I always hope that I'm providing you with helpful content. If you found news you could use, please share it with your friends on Facebook. Thanks for telling others about Faithful Provisions!
More Resources
I have new Shopping List templates available for you. Whether you are shopping at one store or multiple stores, you can keep things organized with these FREE downloadable lists.