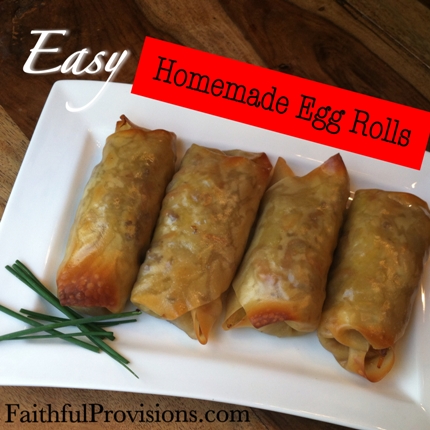 An easy egg roll recipe, for some reason, never occurred to me. We go out to eat about once a week, and egg rolls just always seemed to me to be something that I would order from a Chinese restaurant. I had never really thought about making egg rolls from scratch.
*Scroll down to use print recipe feature and add to your Recipe Box.
So recently, when we were at a friend's house and she served her own homemade egg rolls, it was like a light went on. I knew I had to try making them myself. I don't know why I waited so long on this. They are really not difficult at all. And the difference in taste, from the ones I make at home and the ones we used to order from our favorite Chinese restaurant–well, there is no comparison. Using garden fresh vegetables and meat gives these egg rolls the Wow! factor. Oh yeah, and these are much healthier because I control what goes in them and how they are cooked. That was the big winner for me.
Baked Egg Rolls
Baked egg rolls? Yes! One of the things I have discovered about egg rolls is that they don't have to be fried. If you are trying to avoid extra fat and cholesterol in your diet, you actually do have an option with egg rolls. Preheat your oven to 425 degrees for this recipe and pull out a baking sheet. Just know, they won't be quite as crunchy on the outside, but I was fine with that.
Making Egg Roll Wrappers
Okay, when it comes to making egg roll wrappers, I guess these homemade egg rolls aren't entirely made from scratch because I did purchase the wrappers pre-made. (That keeps the "easy" in "easy egg rolls," LOL.) The ones I bought came in a package of 12 in the refrigerated produce area.
Dipping Sauces for Egg Rolls
What are you thinking of in the way of dipping sauces for egg rolls? What do you reach for when you go out for Chinese? What you go with really depends on your own personal tastes. I love keeping it simple, and my all-time favorite oriental sauce is ponzu. It is a citrus version of soy sauce. You could also use duck sauce, soy sauce, hoisin, plum or even a hot mustard type of sauce.  It's up to you and what you have in your pantry or fridge.

Easy Egg Rolls
Ingredients
½ head of napa/green cabbage, sliced
½ onion, diced
1 cup shredded carrots
1 lb ground beef or pork
2 tablespoons ground ginger (1 tablespoon fresh ginger)
1 tablespoon garlic powder (1 teaspoon fresh minced garlic)
1-2 tablespoons soy sauce (or more to taste)
12 egg roll wrappers
1 tablespoon water (in small bowl for rubbing on wrappers)
Instructions
In a large iron skillet, cook beef/pork, onions, ginger, and garlic until cooked through.
Drain and transfer to another dish.
Using leftover oil from beef/pork mixture, add cabbage and carrots and cook until wilted.
Add meat mixture and soy sauce and and stir until combined. Let cool a little.
Preheat oven to 425 degrees.
On a cutting board, place egg roll wrappers in front of you in a diamond shape. Place 2 tablespoons of cabbage mixture on bottom third of wrapper (closest to you). Then tuck in sides and roll up.
Once you get to the end point, dip fingers in a small bowl of water and rub on end of point (to create seal). Then finish closing egg roll.
Bake in oven for 15-20 minutes or until crispy and golden brown. Serve with fried rice.
Check out more tips and tricks for how to make egg rolls HERE on Faithful Provisions.