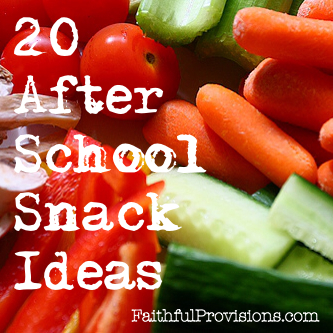 Every mom needs some ideas for after school snacks because every kid comes home from school hungry. I've listed 20 ideas for you here, and I think you're sure to find some snacks that will go over with a little more enthusiasm than peanut butter and crackers. (Although I'm certainly not knocking that!)
*Scroll down to the bottom for the link to my Recipe Box!
By the way, I encourage you to enjoy these snacks around the table with your kids. Don't let them just head for the television or computer with their plates. Distracted eating is one of the major culprits of childhood obesity. Eat at the table, find out what's happening in their lives, and when they're finished snacking, they can help set the table for dinner.
:: All these recipes and more are listed in my Recipe Box HERE.
Easy After School Snacks
Most of these easy after school snacks can be made ahead so they are ready to satisfy those hungry kiddos as soon as they get home. (The easy cinnamon toast recipe, of course, is best coming straight out of the oven. Plus, it offers the kids a wonderful fragrance as they walk in the door.)
1. Easy Cinnamon Toast
2. Soft Pretzels (made with refrigerated pizza crust)
3. Pina Colada Pops
4. Peach Cream Pops
5. Mac and Cheese Muffins
6. Pumpkin Chocolate Chip Muffins
7. Applesauce Muffins
Healthy After School Snacks
We may indulge in the cinnamon toast once in a while, but I much prefer meeting my kids' afternoon munch craving with something more healthy. Here are a few ideas.
8. Popcorn
9. Kale Chips
10. Trail Mix (I've got several kinds for you to try!)
11. Baked Chickpeas
12. Raw Oatmeal Energy Bites
13. Homemade Hummus with Cut Up Veggies or Pita Chips
After School Snacks for Teenagers: Smoothies
The perfect after school snacks for teenagers are smoothies. If your kids are already getting into caffeine- and sugar-laden coffees and lattes, smoothies are a great, trendy alternative. Homemade smoothies can be loaded with fresh fruits and vegetables, plus fat free milk or yogurt. They are a lot easier on a teen's budget too!
14. "Any Fruit" Smoothie
15. Chocolate Peanut Butter Banana Smoothie
16. Strawberry Banana Smoothie
17. Mojito Smoothie
More After School Snack Recipes
If you know you're going to have a late dinner, here are a few more after school snack recipes that are a little more substantial. The trick with a snack is that it doesn't ruin dinner, right? But if there are sports games or practices, band rehearsals, or school projects that will take a while, one of these snacks will be just what they need to tide them over.
18. BBQ Chicken Nachos
19. Black Bean Nachos
20. Pita Pizzas
You can find all these recipes (and more great ideas!) in my Recipe Box HERE.