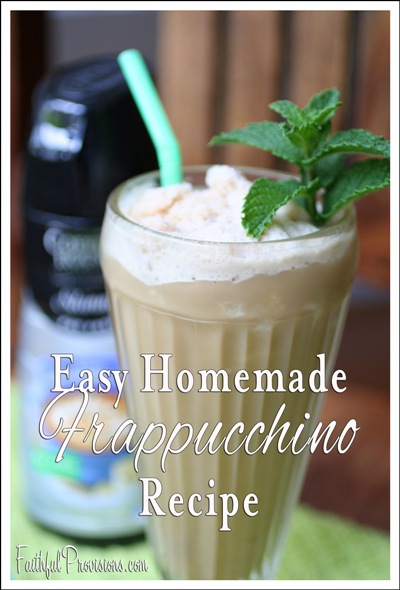 While I would love to head over to Starbucks every afternoon for a coffee break, at $4 a day that is simply not the frugal thing to do, right? But since I am used to having a coffee moment every afternoon, and since things are really heating up here in Tennessee, I'm experimenting with an easy homemade frappucchino recipe made with International Delight coffee creamer. The best part is that International Delight has so many great flavors. Or maybe the best part is that my frugal frap saves you money. Or the best part might be that this easy recipe prevents waste! After all, who wants any coffee to go to waste, right?
*Scroll down to use print recipe feature and add to your Recipe Box.
So every morning you are going to take any leftover coffee that you have and pour it into an ice cube tray. Then follow the directions below using the frozen leftovers. Remember, you never need to make a special pot of coffee in order to make this summer treat. Just use what you already have.
Work in an office? If you work in an office where there is always coffee (and people always want a fresh pot), bring a cup from home and store the leftovers in the fridge to take home with you. Much better than throwing it out! Coffee will keep in the fridge for up to one week.
Easy Homemade Frappucchino Recipe with International Delight
Ingredients
8 coffee cubes
1 cup milk (Use any kind--soy, vanilla, almond, chocolate)
1-2 tablespoons of International Delight Coffee Creamer (I'm using Creamy White Chocolate Mocha. What's your favorite flavor?)
Instructions
Blend all ingredients together for a smoothie-type frappucchino.
Prefer more of an iced coffee? Save leftover coffee in the fridge. (You still want the iced coffee cubes as well, so that your drink doesn't get watered down.) Pour ½ cup coffee, ½ cup milk, and 1-2 tablespoons of International Delight Coffee Creamer over iced coffee cubes. This is the perfect iced coffee.
Recipe developed by Kelly Hancock ©2012 Faithful Provisions. For personal use only. May not be reproduced, reprinted or distributed for capital gain without prior permission from Kelly Hancock.
Check out International Delight's new Coffee Creamer packaging on Facebook!
Enjoying a coffee at home will be even more special for 4 lucky winners! Enter to win $1000 toward your dream kitchen and an International Delight Coffee break Kit, by completing these two steps:
1) Re-pin my coffee moment photo on Pinterest
2) Come back! In the comment field below, tell me you pinned and share your special coffee moment.
This is a sponsored conversation written by me on behalf of International Delight June Sponsored Conversation. The opinions and text are all mine. International Delight Sweepstakes and Rules.