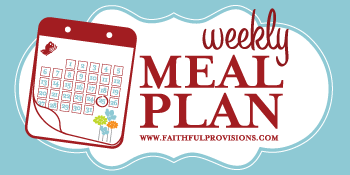 Need ideas for your weekly meal plan? I'm listing some of the things on sale at your grocery stores and then following that with recipes from my Recipe Box that coordinate with those sales. Let me know if you like this and if it helps you out with planning your meals this week.
*If you think it's something your friends could use, please share it on Facebook using the button above!
Click on a Plan Below
My Weekly Meal Plan
Here is a peek into what we got this week for our CSA share. Each weeks meals are planned around what we get in our box and what I already have on hand. As you can see, I've got quite a nice variety to choose from. Cucumbers are starting to come in so I think I'll be sharing some pickle recipes with you soon. If you have a great recipe, please share it with me!
This week I did a little experimenting with different juices, and I believe I have found a new family favorite. Beet juice, with lots of variations on additions like apples, carrots, oranges and lemons was a huge hit in my household. Even my 4 year old couldn't quit drinking it! So, keep your eyes out for a beet juice recipe soon. I would also love to hear your favorite combinations with beets.
Sunday: Community Group Picnic (plus go cart rides and a cookout!)
Monday:  Grilled Vegetables over brown rice with ponzu sauce

Tuesday: Asian Kale Salad (red peppers, green onions, tomatoes), whole wheat garlic bread
Wednesday: Grilled Chicken, Roasted Cauliflower and Broccoli.
*I have lots of roasted vegetable combinations in my recipe box you can find. 
Thursday: Homeschool Mom's Night Out (Easy Dinner)
Friday: Pizza Night! Homemade Pizza Dough with Homemade Pizza Sauce
*Top with whatever is left in fridge, my new favorite is fresh chopped spinach, sliced tomatoes, green olives, peperocinis and artichokes.

Saturday: Grass-Fed Hamburgers, Garlicky Kale (cookout with friends)
What is on your weekly meal plan this week? I'd love to hear your ideas!
Any Store Meal Plan
Fresh summer produce and plenty of deals on grilling meats make this a terrific month for delicious meals. Try any of these recipes and most of the ingredients should be on sale wherever you shop.
Find out What to Buy When in June, and stock up on food items at their lowest prices!
KROGER (Prices good all week)
At Kroger, you'll find boneless chicken breasts and thighs on sale, plus boneless New York strip (whole or half), and Catfish fillets. Don't miss all the great produce that is available this week too, including Canteloupes, Red Tomatoes on the Vine, and Yellow Peaches.
Stock up on (price shown is after coupon matchups):
Annie's Natural Macaroni and Cheese – Save 50% (price varies)
Birds Eye Voila! Skillet Meals – Save 50% – $.88
Kroger Charcoal – Save 50% (price varies)
Recipes to try this week:
:: See all the Kroger Deals HERE.
PUBLIX (Shop before prices change on Wednesday)
You will want to stock up on berries this week. Raspberries and blueberries (including organic blueberries) are on sale. Remember to reserve some time to flash freeze your berries to enjoy in lots of different recipes, including great smoothies. Publix meats on sale this week include boneless pork loin, sirloin tip roast, and fresh tilapia fillets.
Stock up on (price shown is after coupon matchups):
Marie's Dressing, 11.5 oz – $.64
I Can't Believe It's Not Butter Spread or Spray, 7.5 oz 2 pk, or 8 to 15 oz – FREE
Nature's Own Honey Wheat Bread, 20 oz – $.69
Kraft Macaroni & Cheese Dinner, 5.5 to 7.3 oz – $.69 (Great to take to your local food pantry or shelter)
Recipes to try this week:
:: See all the Publix Deals HERE.
I always hope that I'm providing you with helpful content. If you found news you could use, please share it with your friends on Facebook. Thanks for telling others about Faithful Provisions!
More Resources
I have new Shopping List templates available for you. Whether you are shopping at one store or multiple stores, you can keep things organized with these FREE downloadable lists.