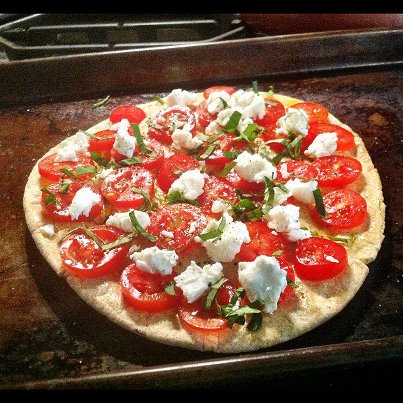 This easy Margherita Pizza gets its name because all you need is a pita for the base. During the summer, I love to make this pizza when the tomatoes and basil are overflowing. The cheese selection depends on what I have on hand, but my favorite is goat cheese. Only four ingredients in this easy margherita pita pizza and you are set.
I substitute depending on what I have on hand: yellow or red tomatoes, goat or mozzarella cheese. The key is a nice sprinkling of salt and pepper, plus a good layer of olive oil to soften the pita bread.
Easy Margherita Pita Pizza
Ingredients
2 pita breads (whole)
3-4 roma tomatoes, sliced
2 tablespoons fresh basil, sliced (or chiffonade)
2-3 tablespoons goat or mozzarella cheese
1 tablespoon olive oil
salt and fresh ground pepper, to taste
Instructions
Preheat oven to 350 degrees.
Place pita breads on baking sheet and drizzle with olive oil. Brush evenly using a pastry brush.
Top evenly with sliced tomatoes, drop pieces of goat cheese, then sprinkle with basil. Season with salt and pepper.
Cook for 10-12 minutes or until cheese is melted.
You can find more recipes for pizzas and pita pizzas in my Recipe Box!