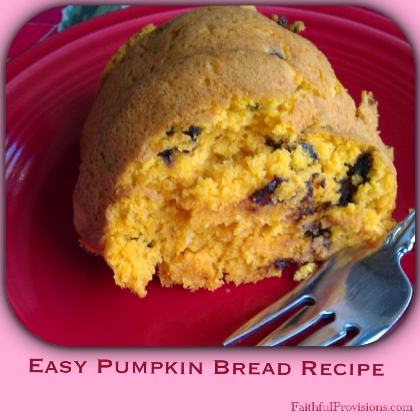 Looking for an easy pumpkin bread recipe? It really doesn't get any easier than this. This easy recipe for pumpkin bread is made with just cake mix and a can of pumpkin. No eggs, no oil–unbelievable!
*Scroll down to use print recipe feature and add to your Recipe Box.
This is a great time to be stocking up on canned pumpkin. It will be at its lowest price of the year right now. When I was making a quick grocery run a couple of days ago, my Kroger had Libby's brand 100% canned pumpkin marked down to $.25/can! Wow! I rarely see deals that low. Last year, the cheapest that I saw pumpkin was $.75/can. So yes, I stocked up!
You can make this pumpkin bread in a large loaf pan, as 3 mini loaves, or in a Bundt pan. (I love the attractive presentation of making this in a Bundt pan.)
It's wonderful as is, but you have several options with add-ins and even what kind of cake mix you choose. As you can see from the photo, I added in about a cup of semi-sweet chocolate chips. Butterscotch would be great, too.
Easy Pumpkin Bread Recipe
Ingredients
1 box spice or yellow cake mix
1 can pumpkin
1 cup chocolate or butterscotch chips (optional)
Instructions
Thoroughly combine cake mix and pumpkin.
Bake at 350 according to cake mix package directions.
Pumpkin Bread is done when a toothpick inserted comes out clean.
You might also want to try this recipe for easy pumpkin muffins on Faithful Provisions.