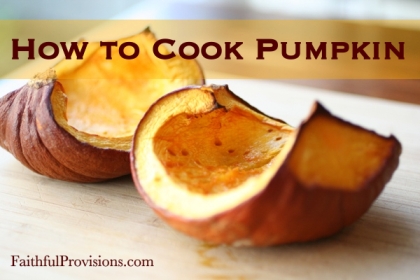 Here's an easy way to learn how to cook pumpkin: Roast it in the oven. I have always preferred the cooking method of roasting. It's just so simple. I'd rather put something in my oven to roast, and be able to walk away from it and do other things, than have to stand over it while it boils or sautes. Plus, it just tastes better!
Cooking Pumpkin
Boiling is a popular method when it comes to cooking pumpkin, and I will admit it's quicker than roasting. But when you boil, you miss out on the rich, sweet, nutty-ish flavor that roasting creates. I always roast with the flesh side (the cut side) up, but many people roast with the flesh side down. I don't think it really matters, however, if you go with roasting it flesh side down, don't quarter it. Other than that, it's pretty hard to mess this up!
PLEASE NOTE: As you prepare your pumpkin for roasting, don't throw away those pumpkin seeds! You can learn how to cook pumpkin seeds as a special treat for your family. My kids love them!
Once you have it roasted, you can easily scrape out the inside and see how to puree pumpkin in your food processor or blender.
How to Cook Pumpkin
Ingredients
1 Pumpkin or several small pumpkins
Instructions
Cut off top of pumpkin. Discard.
Cut down the middle of the pumpkin so you have two halves.
Scoop out the seeds and string. (Note: Separate the pumpkin seeds. Reserve those to the side for roasted pumpkin seeds later.)
Quarter each half.
Lay on baking sheet with flesh side up.
Roast on 400 degrees for 30-35 minutes until brown and caramelized on top.
Cook Fresh Pumpkin
Your cooking time really depends upon the ripeness of your pumpkin, so you want to cook fresh pumpkin. The older your pumpkin is, the drier it becomes. It will take longer in the oven to soften up. Once a pumpkin gets dry, it is difficult to get the flesh soft again. The fresher the pumpkin, the better it will be. A couple of tips:
Pick out a heavy pumpkin. A heavy pumpkin will be fresher because the weight will be from the moisture inside.
Also, as a rule of thumb: Smaller pumpkins are sweeter and have more flavor. Pie pumpkins are the sweetest.
Easy Pumpkin Recipes
Easy pumpkin recipes for muffins, an easy pumpkin bread, and a nutritious pumpkin soup are all coming up on Faithful Provisions. Try these:
Do you cook fresh pumpkin in the fall? Or do you usually buy it canned?