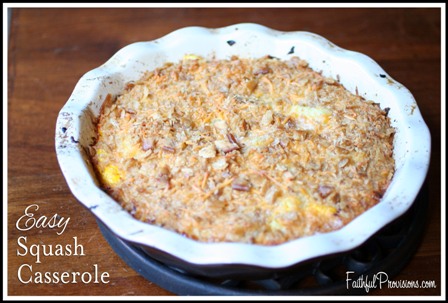 If you're looking for an easy squash casserole that is also pretty healthy, this one is perfect for you. When our squash starts coming in during the heart of the summer, this is my go-to squash recipe.
Saute vs. Boiling Squash
I saute my squash on the stove top rather than boiling it for several reasons.
It tastes better. I use a little grapeseed oil and crushed garlic in my saute.
It retains more nutrients. When you boil veggies, most of the nutrients boil out into the water.
It's much quicker. I'm all about getting it done quickly!
A Healthier Alternative to Traditional Squash Casserole
Cut down on butter. Your typical recipe for squash casserole includes quite a bit of butter. I cut the amount of butter in half compared to traditional recipes. To get that buttery taste (and if I'm going to add butter, I want to taste it!), I add it on the top.
Substitute whole wheat crackers. I use whole wheat crackers. I still get the crackery texture but without the white flour. Plus, that adds more nutrients as well.
Go organic. I use farm fresh eggs, organic milk (or unsweetened almond milk), and my own organically-grown squash.
Easy Squash Casserole
Ingredients
4 cups yellow squash, sliced ( approximately 2 large)
2 cloves of garlic, crushed
1 tablespoon of oil
½ large onion, chopped (approximately ½ cup)
1 cup crushed crackers (buttery round or whole wheat)
1 cup shredded cheddar cheese
2 eggs, beaten
¾ cup milk
2 tablespoons butter, sliced (to lay on top)
1 tsp salt
Black pepper (ground, taste)
Instructions
Preheat oven to 400 degrees F
Place squash and onion in a large skillet over medium heat and cook in oil with garlic until squash is tender, about 5 minutes.
In a large bowl, mix together eggs and milk.
Add onions and squash.
Stir in 5-10 crushed crackers and ½ cup cheese, and season with salt and pepper.
Pour into an 8x8 square or round pie baking dish.
In a small bowl, combine 5-10 crushed crackers and remaining cheese (1/2 cup) together and sprinkle over squash mixture. Cover with butter slices.
Bake in preheated oven for 25 minutes, or until lightly browned.
 Find more great recipes for side dishes in my Recipe Box.