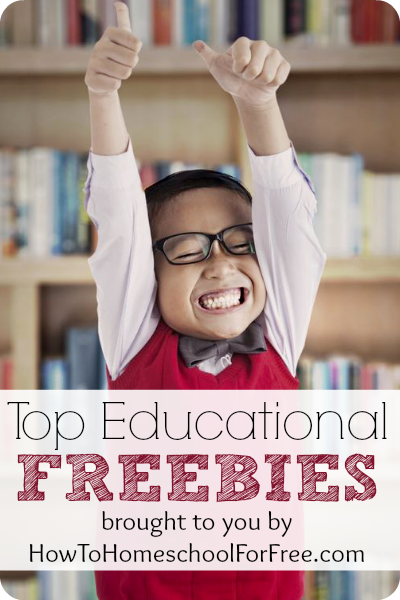 Educational Freebies For Homeschoolers
Here are some Educational Freebies available this week. These are great resources if you are a homeschooler. Just click on the link to download or print the freebie.
Free App Friday – 33 FREE apps available on 5/9/14!
How to make a penny battery that will power an LED light for 7 days!
Free resources to teach your child to read from SightWords.com
FREE Uno-style Probability card game
Simple directions for several household science projects
FREE Minecraft-based Geometry unit from Currclick
Free curriculum from the National Postal Museum – options for Early Elementary, Upper Elementary, Middle School, and High School
Free The Very Hungry Caterpillar printable worksheets
How to put together your own Journalism curriculum from FiveJs
75 top APPS for homeschool – the top school apps for just about every subject!
How to create your own Little House unit study
Educational online games for K – 5th grade
Free Kindle Books For Children – The top 100 completely FREE Kindle Books for kids!
Thanks, How to Homeschool For Free!