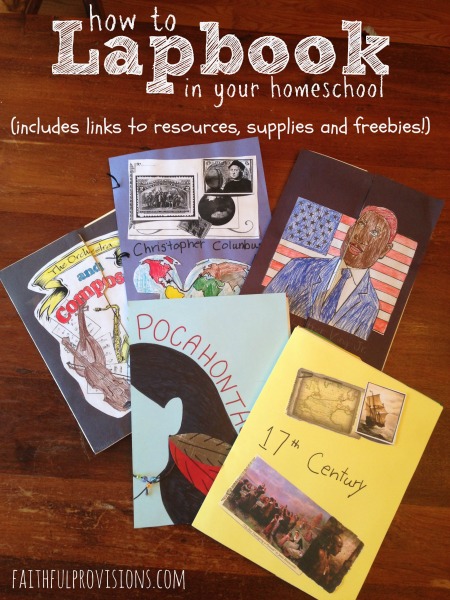 One of my new favorite tools to use in our homeschool are lapbooks. I stayed away from making lapbooks longer than I should have because it sounded like such a big "thing" to me. It turns out they're not hard to make and my kids love them!
What is a lapbook?
Lapbooks are a great way to reinforce learning being done in your school. It is a supplemental hands-on tool you can use to aid in teaching specific topics or units of study. We use them primarily as unit studies for specific topics like The Olympics, Martin Luther King Day and Pocahontas.
Typically, lapbooks are created using manilla folders and mini-books to display stories, poems, artwork or even graphs and pictures. You can include things to help your children learn about that specific topic of study. The mini-books are used together to tell more about a larger topic.
My favorite thing about lapbooks is that they are a very visual and tangible example of what your child is learning. My children love showing their lapbooks to friends and family. I can keep them for years and even pull them out if we come back to those areas of study again. In fact, we will be putting ours on display at the family night at our homeschool tutorial.
How to Assemble a Lapbook
There are quite a few different ways you can assemble a lapbook. It really depends on how much content you intent to cover. For instance, for our Martin Luther King Day lapbook we used only one folder (Erica has a great pocket lapbook tutorial here). It was a one day study to teach my children a little more about Martin Luther King, Jr. When we did our 17th Century and Olympic Lapbooks, that study stretched over the course of a few weeks and we used 3 manilla folders. We assembled it like the video below since there was so much more content I wanted to cover.
Lapbooking Resources
The hardest thing about making lapbooks is finding a good and easy lapbook you can use that doesn't require a lot of work on your part. Simply Google "[your topic] lapbook".  I look for free or inexpensive ones to buy that are already designed.  I can usually find really good ones for under $5.
My all-time favorite place to find quality lapbooks has been A Journey Through Learning. Their lapbooks come in a format that I love and can download to my iPad to use in class.  My kids really enjoyed the great Composer Unit Study lapbook from Homeschool Creations. In addition, she has more on Scientists, Artists, Composers, and Classic Literature units. Be sure to check them out!
*A few other resources I found helpful to round out our lapbooks were Homeschool Share and Wonder Maps.
Using those resources, we've completed the following lapbooks this year:
Lapbooking Supplies
The best part about lapbooking is that we typically use whatever crafty things we have on hand. My daughter loves to craft so this has also been a great way to get art in during a week. If you are a scrapbooker (or used to be like me) use all those extra scrapbook paper sheets and cut them down to decorate the manilla folders. We buy the plain folders and then cover them with paper to make them our own. If you don't want to do that, you can pay a little more and get colored folders that you can just use glue the mini-books on.
You only need a few things to get started, mainly manilla file folders:
colored card stock (or scrapbook paper)
glue (I like glue sticks best)
stapler (to staple multiple folders together)
Have you ever done a lapbook before? What are your favorite resources for creating lapbooks? I would love to hear more about what you are using in your home school to make learning fun!