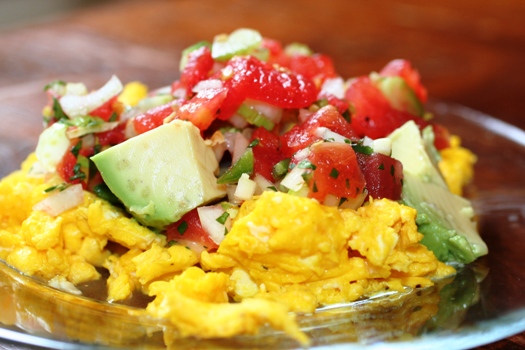 I came up with this beauty one day when I was trying to lower my carb intake, but I needed something to seriously fill me up in the morning. We always have eggs in the fridge that we buy locally, and salsa on hand, and if possible, a few avocados make it home at least a couple times a month.
I have found eggs to be one of the most inexpensive items to cook. You get a nutritional power punch, plus staying power, and all for a pretty good price–especially when you can find a great sale. (Learn How to Freeze Eggs HERE.)
*Scroll down to use print recipe feature and add to your Recipe Box.
My personal favorite is to make a homemade salsa, like my Easy Salsa Fresca, to top it off (preferably one with lots of lime). It lightens the egg and avocado combo up. If you wanted, you could even make a very Chunky Guacamole instead of just plain avocado, but I found using salsa with it gives it basically the same taste. If you have never worked with an avocado before, you can check out my post on How to Prepare an Avocado. I'd love to hear any tips you might have too! (Btw, avocados are on the What to Buy When list for January, so now is a great time to buy!)

Eggs with Avocado and Salsa
Ingredients
2-3 eggs, beaten
2 tablespoons milk (optional)
Salt and pepper, to taste
1 avocado, diced
2-3 tablespoons salsa or diced tomatoes
Instructions
Beat eggs, milk, salt, and pepper.
Heat a sauce pan over medium heat. Coat bottom with oil (coconut or canola).
Once warm, cook until eggs are cooked through.
*Cooks Note: They will continue to cook once you take them off the heat, so don't overcook or they will be really dry.
Put onto your plate and generously top with avocado/guacamole and salsa/tomatoes.
You might also like:
Avocado Recipes

Egg Recipes

What are your favorite things to make with eggs? Share your ideas with the Faithful Provisions community!
Recipe developed by Kelly Hancock ©2010 Faithful Provisions. For personal use only. May not be reproduced, reprinted or distributed for capital gain without prior permission from Kelly Hancock.