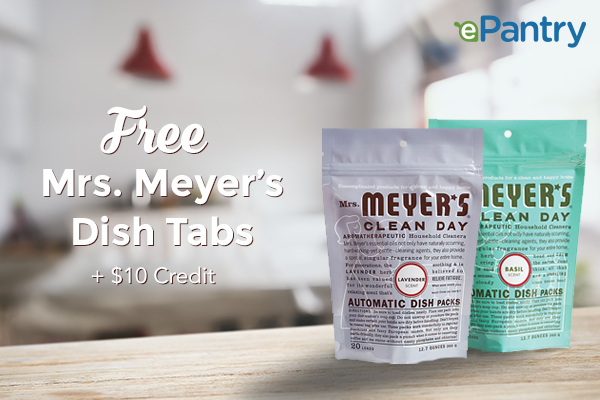 ePantry, one of my new favorite companies, is offering a great deal right now to new ePantry Subscribers.
Make a minimum of a $20 purchase (before $10 credit) and get a FREE Mrs. Meyer's Dish Tabs packet, $10 Credit + FREE Shipping on your first order.
How to Get This ePantry Deal

1.  Go to ePantry here and click on the "Get Started" button.

2.  Answer the questions to personalize your account. (you can change this at any time)

3.  Add the Mrs. Meyer's Dish Tabs to your cart, and on the right side of the screen you will see the deal for the $10 credit + Free shipping.

4.  Add up to $20 (after $10 credit) in product total to your cart, and then checkout when finished.

5.  Shipping will be free and you will receive the $10 credit + FREE Mrs. Meyers Dish Tabs at checkout.