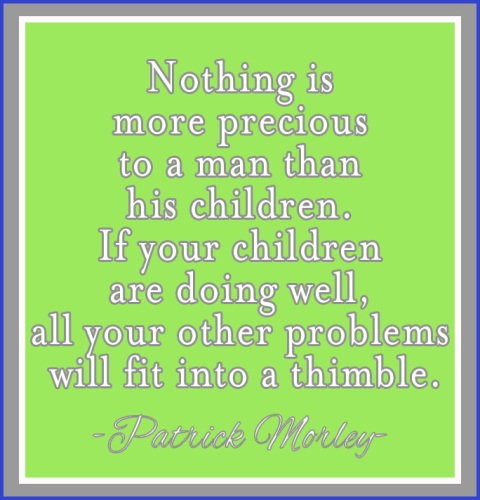 Whatever you are doing for Father's Day, inspirational quotes like these from author Patrick Morley will add the perfect touch to your cards, scrapbook pages, photo books, and framed photo projects. For Father's Day, quotes that inspire are often the ones that are the best at challenging and motivating, plus they can show our appreciation in a new way. These are a great fit into Sunday school lessons, sermons, bulletins, and church websites. Patrick Morley is offering a FREE download for dads right now along with a giveaway. Scroll down to get all the details.
Nothing is more precious to a man than his children. If your children are doing well, all your other problems will fit into a thimble. ~Patrick Morley
Right now, your kids desperately need to know that someone loves them as they are. They yearn for someone who will overlook their faults, forgive their sins, and love them without reserve. They hunger for someone who delights in and believes in them. They thirst for someone who thinks they're great–who thinks the best of their motives. Whether they can articulate it or not, they long for someone who will make them feel safe.
You are God's designated solution. Are you willing to make the first move…and keep on making it? ~Patrick Morley
If you want to lead a balanced life, decide how many hours you want to work and stick to your guns. Put work appointments on your calendar in pencil, but put your family commitments in pen. Love is time, and time is love. ~Patrick Morley
These Father's Day inspirational quotes are taken from Patrick Morley's book Man Alive: Transforming Your Seven Primal Needs into a Powerful Spiritual Life.
Check out these resources for Father's Day: Get a FREE download of Ten Ways to Love Your Child by Patrick Morley, a valuable read for any dad.
I love inspirational Father's Day quotes. From movies, I've collected favorite lines from some of my favorite flicks. You'll find one that sings Dad's praises perfectly. If funny Father's Day quotes are more your style, you'll like my collection from Bill Cosby.
I think my favorite Father's Day quote  fits into the "inspiring" collection. It is definitely a motivator.