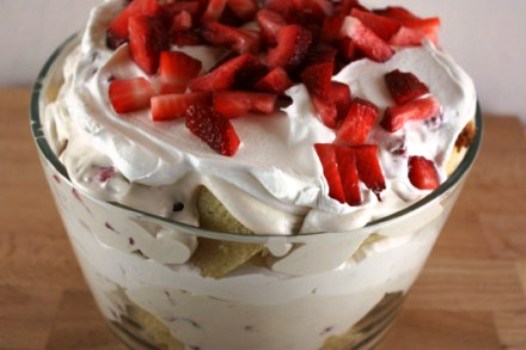 Guest post by Lynn at Lynn's Kitchen Adventures
My grandmother used to say that presentation is half the importance of a nice meal. I think there is a lot of truth in that, especially when it comes to frugal cooking.
Simple and inexpensive meals can be turned into something special by serving them in a unique and interesting way.
One of my favorite tips for a nice presentation, especially when entertaining, is a trifle bowl. Something as simple as a trifle bowl can make a big difference. Many of you probably own a trifle bowl. If you do not have one you can easily find them for $10 or less. I have even seen them used at garage sales or thrift stores for just a dollar or two.
You might be wondering what exactly I use my trifle bowl for. I love to use it for desserts. It is an easy way to serve a simple dessert to a large group of people. You can fit a lot of food into a trifle bowl.
I make a Brownie Trifle in it, but I also make a Strawberry Trifle (pictured at top of post), and even a Banana Split Trifle. You can also take any pound or angel food cake, layer it with whipped cream or pudding, add fruit, and you have a quick and easy dessert.
But I don't use my trifle bowl just for desserts. I love to serve salad in it. By doing this you can take a simple and inexpensive salad and make it look much more impressive.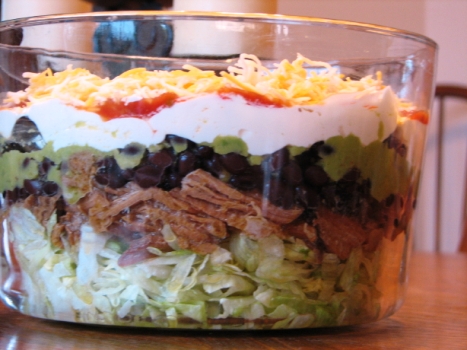 I often layer taco salad ingredients in my trifle bowl to take to church dinners. You can also layer any lettuce, chicken, vegetables, and other ingredients in a trifle bowl.
A trifle bowl really does help you take inexpensive meals and recipes, and make them something special.
Lynn is a homeschooling mom of three who loves cooking. Learn more about Lynn.