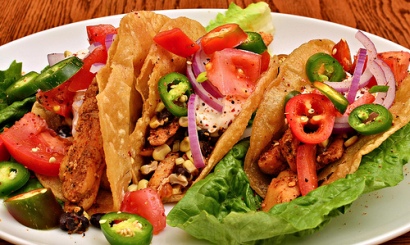 This recipe for Slow Cooker Chicken Tacos is SO easy and SO good. Nothing beats a great chicken taco. Crock pot cooking makes this one a cinch to make. Plus, the texture of the chicken is tender and juicy. Take two forks and you will easily have mounds of shredded chicken. Tacos require very little kitchen prep time and clean up. (I love that!) And I'm guessing you will probably have most of the ingredients in your stockpile.
Easy Mexican Chicken Recipes
I'm a huge fan of easy Mexican chicken recipes like this one, and I promise–once you put this in your slow cooker in the morning, you will look forward to it all day.
Along with tons of topping options (like green and black olives, onions, tomatoes, guacamole, sour cream, cheese, jalapenos, and banana peppers) I serve these with Spanish rice and black beans on the side.
Slow Cooker Chicken Tacos
Ingredients
2-3 boneless/skinless chicken breasts (can be frozen)
1 packet taco seasoning
1 jar salsa
Instructions
Place chicken in crock pot.
Sprinkle taco seasoning on top of chicken.
Pour salsa over top.
Cover and cook on Low until the chicken shreds easily with a fork, about 6-8 hours.
When the chicken is cooked, remove from slow cooker, shred with two forks and return to salsa mixture.
Serve with flour tortillas, cheese, lettuce, sour cream and black olives.
Like this recipe? You might want to check out my slow cooker recipes HERE, which include:
Slow Cooker Chicken Stroganoff
Slow Cooker Pork Carnitas
Slow Cooker White Chicken Chili

Can you be a "couponista" while still eating healthy? You bet! I'll tell you all my secrets in my new book,Saving Savvy.
Recipe developed by Kelly Hancock ©2010 Faithful Provisions. For personal use only. May not be reproduced, reprinted or distributed for capital gain without prior permission from Kelly Hancock.