Well, this was a VERY productive afternoon for me!  I posted my plan this morning, and it has grown since.  So, I will be cooking tomorrow on and off all day, with a big thanks to my mom.  She will be coming over to help me out and play with the kiddos. Ainsley was quite a help making the muffins and casseroles today as you can see below!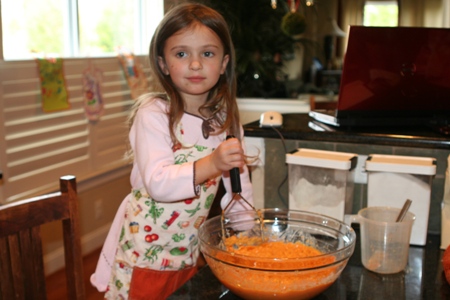 I was able to score some more pumpkin today at my local Publix, so I will be baking the Pumpkin Chocolate Chip Bread as Christmas gifts tomorrow. As you can see below I got quite a bit of the $1/bag sweet potatoes at Aldi.  Believe it or not, I still have 1.5 bags left!
I owe Shellie at Saving With Shellie a HUGE thanks! She gave me the idea to use my Kitchen Aid to mix my sausage balls, instead of by hand.  When I do them by hand there is usually a lot of bisquick and cheese in the bottom, plus it takes forever. Does this happen to you? This did all the work and all I had to do was roll them out. Such a big time-saver for me. I didn't dread doing them this time.
Today I got a lot of meals prepared and tomorrow will be Christmas treats day. I'll post my plan tomorrow morning.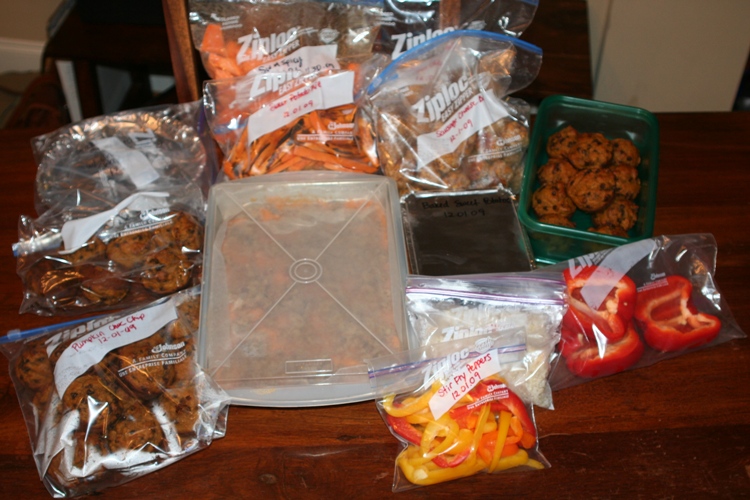 Here is what I completed today:
Baked Sweet Potatoes (2 pans)
Sweet & Savory Sweet Potatoes
Sweet Potato Fries
Sweet Potato Casserole (for Christmas Day dinner)
Sausage Cheese Balls (2 large bags)
Pumpkin Chocolate Chip Muffins (3 dozen)
Pepper Stir-Fry
Brown Rice (4 bags + dinner tonight)
So, did you bake along with me today? How about tomorrow?  Want to get ahead of the Christmas rush, and have it all done? Be sure to leave a comment with any great ideas, progress and recipes. If you have a post and want to link to your favorite recipes or your baking day, please leave it below.