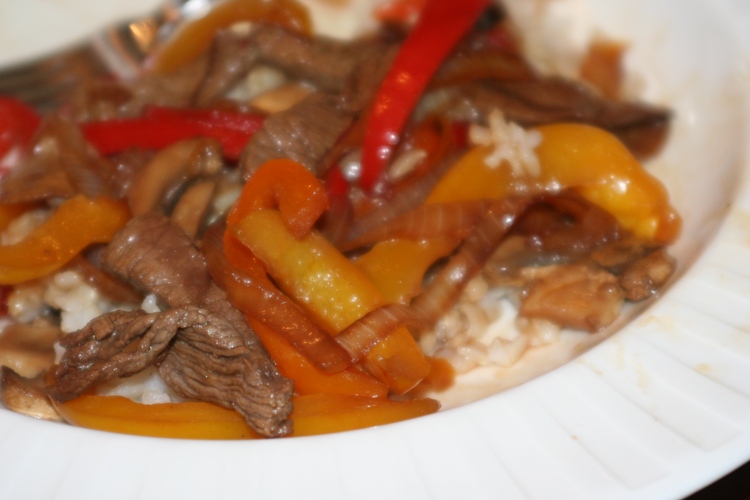 I have been working on trying to be more creative this week. I am trying to  use only what is in the freezer, pantry and fridge and I like some of the variety we are getting, it is all new!
This meal came from a sale on red peppers at Kroger last week, and some stir fry beef I found in the managers markdown area for only $1! It worked out well, because yesterday for my Baking Day I wanted to cook some rice, and I just incorporated that into  my baking day and it did double duty for dinner.
A few changes you could make to this meal are:
Meat:  use chicken instead of beef
Veggie ideas:  spinach, broccoli, carrots, water chestnuts, bamboo shoots
Sauce: any type of oriental sauce will do like Terryaki, Soy Sauce or leftover Beef & Broccoli Packets from those Birds Eye Stir Fry's!
Rice: This would be great over spaghetti or rice noodles, or even soba, whatever you have!
Beef & Pepper Stir Fry
Ingredients
1 pound thin sliced beef stir fry (sliced into strips)
1 clove garlic, minced
Red, orange, yellow and green bell pepper, sliced (about 1 cup total)
1 onion, sliced
1 16 ounce container sliced mushrooms
Brown rice, cooked
Ponzu sauce (this is in Oriental section, near soy sauce, similar but with a citrus taste, wonderful!)
Instructions
Marinate beef in ponzu sauce in storage bag. I did mine in the afternoon after I thawed it.
Heat oil and saute garlic, onions, peppers, and mushrooms until softened.
Once softened add about 3 tablespoons of Ponzu sauce, or more if you like.
Don't let this cook too long, the sugar in the sauce will thicken up and stick to bottom. Remove into separate plate.
In same pan, cook beef about 2-3 minutes until cooked through, add more sauce if needed.
Add both meat and veggies back to pan to heat.
Serve over brown rice and ponzu sauce on the side.
You might also like: