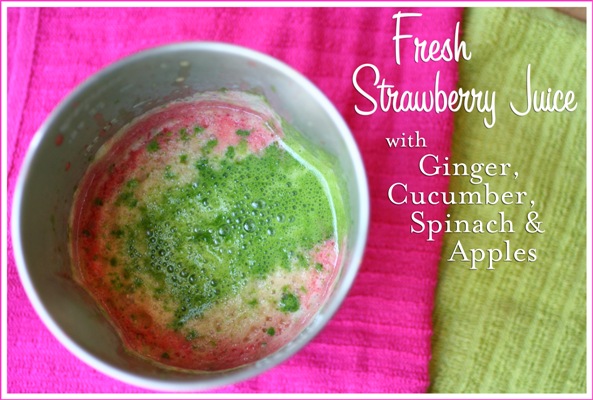 If you don't have a juicer, you will want to get one to make this fresh strawberry juice recipe! And then, I promise, you will be totally hooked on juicing. There is nothing better you can do with a fresh strawberry. Recipes for my favorite strawberry desserts are coming soon, so you will have even more ideas — keep an eye out.
This fresh strawberry juice is packed with antioxidants and nutrients, and is my favorite way to get my day started, after my morning cup of coffee, of course! The best thing about juicing is that I use whatever produce is available in my refrigerator, paying special attention to anything that looks like it needs to be used before going bad. The key with juicing is finding the right quantity of each ingredient so it tastes good to you. This week I had a lot of strawberries I was trying to find recipes for. After making my fresh strawberry sauce recipe, fresh strawberry cake recipe (coming soon!) and a fresh strawberry filling recipe, juicing was a great way to use what I had left.
If you haven't ever tried a fresh juice before, look for a local Whole Foods or health food store and you can try out all kinds of different combinations to see if juicing is for you. Of all the juice recipes I make, this fresh strawberry juice recipe is my favorite with the ginger, cucumber, apples, and spinach. I love the color before it is  mixed up! And believe it or not, my kids ask me to make fresh juice for them every morning. We started with simple juices like orange, but now we add carrot, strawberries, and even spinach.
Don't Have a Juicer?
Before going out and purchasing a fancy juicer with all the bells and whistles, I would highly recommend finding a used juicer first. Check Craig's List or a local garage sale. If you're not sure about juicing, you definitely don't want to invest a lot of money into it. But if you try it, and you like it, and if you are sure you will stick with it, get one that is easy to clean–that is key!
Fresh Strawberry Juice with Ginger, Cucumber, Spinach & Apples
Ingredients
10-12 strawberries
¾ inch fresh ginger root
1 small cucumber
3 handfuls fresh spinach (approx. 4 cups)
3 apples
½ lemon
Instructions
Process all ingredients into your juicer.
Pour over ice in a large mason jar, and drink immediately!
:: Here's another must-try recipe: Fresh Strawberry Cake! (Coming soon!)
Recipe developed by Kelly Hancock ©2010 Faithful Provisions. For personal use only. May not be reproduced, reprinted or distributed for capital gain without prior permission from Kelly Hancock.