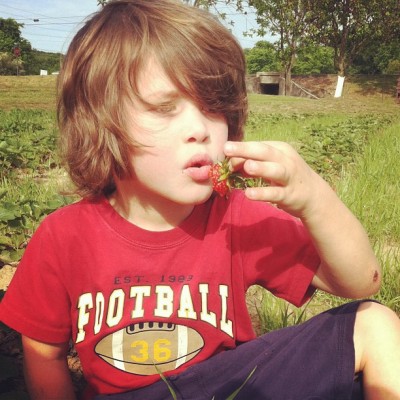 This morning the kids and I headed out to a local strawberry farm and ended up picking two gallons of strawberries. Or should I say I picked two gallons of strawberries. The picture above is basically what the kids did while I picked. They sat around, ate strawberries, and played. That is fine–I got a lot done and they had fun!
In an effort to make the most of my time, I decided to go ahead and prep all the strawberries while I was in the kitchen. Since these strawberries weren't from an organic farm, we cleaned them using a vinegar and hydrogen peroxide soak method.  Check out how on my friend Calie's post HERE.
So here is what I was able to do with two gallons of fresh strawberries:
Note to self:  Next time you pick 2 gallons of strawberries, remember to save some to eat fresh! I accidentally forgot and prepped all of the strawberries, leaving none for salads and general eating. I guess we might need to make another trip!
What are some of your favorite ways to use strawberries?  I'd love to hear what you do when you find lots of strawberries on sale!