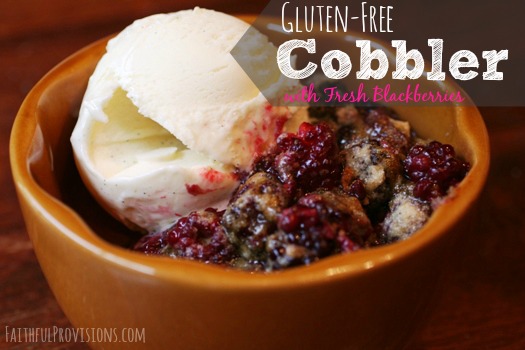 This is probably the easiest Fruit Cobbler Recipe I have ever made.  I was introduced to it when my friend Krista came over one night with her family and we were trying to figure out a gluten-free option for dessert that everyone would enjoy.  Everyone did!  We just used a gluten-free vanilla cake mix which tasted exactly the same (except for the price!).
The best part is that you can use any of your favorite fruit.  I use whatever is in season, because not only is it a better price, but it usually tastes much sweeter and juicier than out-of-season options. Some ideas for fruit might be:
blackberry (which I made above)
apple
peach
blueberry
cherry (fresh would be amazing!)
strawberry
If you use the method of stocking ahead to purchase cake mixes when they are on sale with a coupon, you can most likely grab them for $.50 or less at your local store.  I find them on sale most often in the fall right before Thanksgiving when the baking products go on sale. Same goes for ice cream, which is a must for cobbler! I purchase it in the summertime with coupons or when they go on sale Buy One Get One Free for less than $2 per half gallon.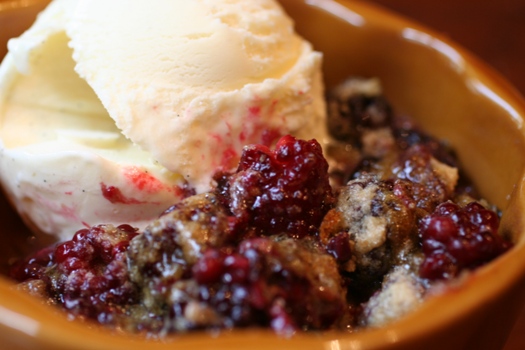 *Scroll down to use print recipe feature and add to your Recipe Box.
The beauty of this Fruit Cobbler recipe is that it literally takes about 2 minutes to throw together, but it tastes like you took a lot more time on it. You can use fresh fruit, canned or frozen. I think the key is LOTS of butter.  Yes, I know, I sound like Paula Dean, but it really makes this. If you wonder if you have enough butter, add just a little more! The recipe below is a general rule of thumb to go by when making yours, but I typically just fill the bottom of a pie plate with fresh fruit, sprinkle enough cake mix to generously cover the fruit, then put little butter pats all over it.  Lastly, I melt about a quarter cup of butter to pour over, and top with a generous sprinkling of brown sugar or sucanat (natural brown sugar.)
Use whatever shape pan you have on hand.  As you can see here, I used an odd shaped one that is probably around a 6×9, but a circle pie plate or 8×8 pan will do perfectly.  If you are making for a large group, I would double this recipe and put it into a 9×13 baking dish. However you choose, just know, it is very difficult to mess this one up!
Fruit Cobbler
Ingredients
4-6 cups fresh fruit (blackberries, peaches, cherries or apples)
1 cup vanilla cake mix
¼ stick butter, cubes
¼ stick butter, melted
2 tablespoons brown sugar
Instructions
Preheat oven to 350 degrees.
Place fruit in bottom of 8x8 dish and cover with cake mix.
Top with butter cubes, then pour remaining butter evenly over top.
Sprinkle evenly with brown sugar.
Cook for 25-30 minutes or until golden brown as above.
Find more easy and cost-cutting desserts in my Recipe Box.  A few of my favorites: