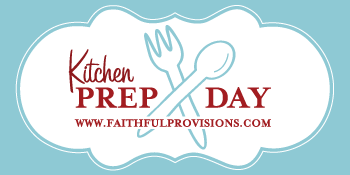 It's the first Tuesday of the month and time for me to do a Kitchen Prep Day! I am going to try to schedule my time tomorrow morning or afternoon, depending on our schedule.
I have lots of things still in the freezer, so I am going to focus on making mostly breakfast, side and snack items for us to have on hand. The items below that aren't linked to a recipe will be coming soon!
*NEW* I will be using Ziplist to make my grocery list.  If you haven't tried it out yet, you should!  It is FREE, and not only captures your recipes but then will also add those ingredients automatically to your recipe list!  You know how I love lists…  They also have a FREE Ziplist iPhone App too.  Download it now, I'll have a giveaway and more on that tomorrow.
Here is my plan:
Homemade Granola
Granola Bars (bottom of post)
Black Bean and Corn Salad
Lentil Summer Salad
Blackberry Pie with Homemade Crust
Flash Freeze Strawberries & Blackberries (got them for $1/ea!)
Need some inspiration for your Kitchen Prep Day? Checkout my Recipe Box full of tried and true recipes!