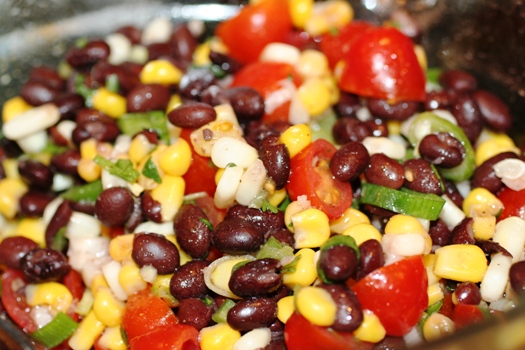 I don't know why I like this salad more, because it is so good, has so many versatile uses or it is really nutritious and good for you. You decide.
*Scroll down to use print recipe feature and add to your Recipe Box.
I make a big batch of this, which is the recipe below, so you might want to half it if you are only going to use it for one thing. Here are a few ways to eat this:
Black Bean Corn Salad and Avocado Tostadas (recipe coming later!)
Black Bean Corn Salad as a side dish
Black Bean Corn Salad as a salsa with tortilla or pita chips
Black Bean Corn Salad
Ingredients
1-2 pints grape tomatoes, halved
1 pkg frozen shoe peg corn (or any other corn)
2 (15-ounce) cans black beans, rinsed and drained
3 green onions, chopped (whites and greens) - or red onion
2 tablespoons minced jalapeno peppers, seeded (1-2 peppers)
¼ cup freshly squeezed lime juice (2 limes)
¼ cup red wine vinegar
½ cup extra virgin olive oil
2 tablespoons fresh cilantro, chopped
2 teaspoons kosher salt
1 teaspoon freshly ground black pepper
1 teaspoon minced garlic
¼ teaspoon ground cayenne pepper (optional)
2 ripe Hass avocados, seeded, peeled, and ½-inch diced
Instructions
Place the tomatoes, corn, black beans, green onion, cilantro and jalapeno peppers in a large bowl.
Whisk together the lime juice, vinegar, olive oil, salt, black pepper, garlic, and cayenne pepper and pour over the vegetables.
Toss well.
Add avocado as you eat. This way you can keep it in the fridge as long as you want without the avocados turning brown.
This tastes best the next day!
Recipe developed by Kelly Hancock ©2010 Faithful Provisions. For personal use only. May not be reproduced, reprinted or distributed for capital gain without prior permission from Kelly Hancock.