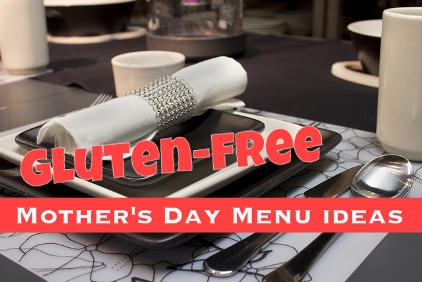 Looking for a gluten free Mother's Day menu?
Recently we asked our Faithful Provision's Facebook community if they wanted us to start posting more gluten free deals, and we were overwhelmed by the response. There are so many families who are pursuing gluten free options for a variety of health reasons. If you are a member of one of those families, you know that it's not easy being gluten free, especially when it comes to special occasions like Mother's Day. I asked my friend Lynn of Lynn's Kitchen Adventures for her help in putting together a Gluten Free Mother's Day Menu, and I love the options she came up with. Read her post below, and start planning your gluten free Mother's Day!

Gluten Free Mother's Day Menu
Moms work hard and Mother's Day is the perfect time to give Mom the day off when it comes to cooking. This is especially important for moms that have a gluten free family, because gluten free moms rarely get a break from cooking.  So today I am sharing some quick and easy gluten free meal ideas that your mom will love.
And if you are a gluten free mom who will be cooking this Mother's Day, these are all easy recipes that will make your day easy, delicious, and gluten free.
Gluten Free Brunch
Eggs are a gluten free brunch food, and you can enjoy them in this delicious recipe for
Baked Egg Cups. Be sure the Canadian Bacon or ham is gluten free. (Try Applegate Farms brand. Most of their products are gluten-free, including their bacon products.)
Deviled Eggs are another great option for a gluten free brunch item. Full of protein, this makes a great finger food for the kids at your table who need to eat gluten free.
This Monkey Salad Recipe is both monkey-free and gluten free! You'll love the sweet simplicity of the flavors and so will your gluten free guests.
Homemade Orange Julius – This copycat recipe does a great job of tasting like the original!
Gluten Free Mother's Day Menu Idea
Here's a great Gluten Free Mother's Day menu idea, featuring salmon, oven fries (another great gluten free item for the kiddos) and lovely roasted asparagus.
No Bake Cookie Bars using gluten free oats, pictured above. (Some gluten free folks are sensitive to oats too, so be sure to check with your guests before serving these.)
Article by Faithful Provisions contributor Lynn of Lynn's Kitchen Adventures. Learn more about Lynn HERE.
:: Find more Mother's Day Menus HERE Faithful Provisions!