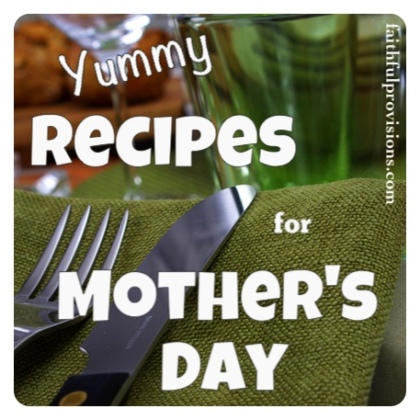 Whether you're cooking for your mom, or looking for special menu ideas for your wife, I've got lots of recipes for Mother's Day for you right here. We want to make this as painless as possible, especially for those moms who still have to cook, because if you're stuck in the kitchen all day, no one enjoys Mother's Day. (Remember the wise saying: If Momma ain't happy, ain't nobody happy!) So I've got grilling options below that you can easily assign to the best griller on hand, as well as make-ahead options that leave you free to enjoy the day pampering, visiting, and loving on your own mom, or being pampered yourself.
Mother's Day Menu
Try this four-course Mother's Day Menu that features an easy grilled chicken and pasta recipe with a side salad you can easily make ahead.
Mother's Day Brunch Recipes
Planning a Mother's Day Brunch? Recipes for brunch can be light and easy, just like your day should be!
Easy Recipes for Mother's Day
Keep it extra simple and plan a great day of eating outside for a picnic style Mother's Day. Try these easy recipes for Mother's Day and let the kids help in every part of planning the meal.
Mother's Day Cake Recipes
How about a couple of special Mother's Day cake recipes? Either of these will make a big hit with your family. And on Mother's Day, we get a freebie on calories, right?
Gluten Free Recipes for Mother's Day
Be sure to check out these ideas for a Gluten Free Mom's Day Menu HERE.
::Find more Mother's Day Recipes HERE  on Faithful Provisions.