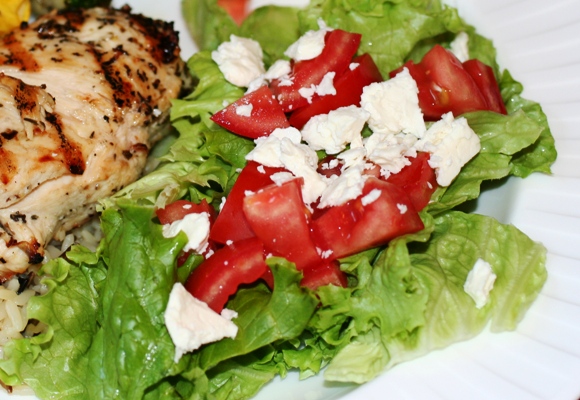 Oh, how I love Greek Salad. The key to a great Greek Salad is the salad dressing and a few key toppings.  For me, those are feta cheese and kalamata olives.  So, I keep an eye out for these on sale. I can usually find feta cheese at Costco on sale, and I freeze individual 6 oz blocks.  They thaw out great!
*Scroll down to use print recipe feature and add to your Recipe Box.
I have a traditional Greek Marinade I use for Kabobs and vegetables, but the one used here is really similar. It's great when you are in a pinch!
Greek Salad with Dressing
Ingredients
Head lettuce, green leaf works best
Toppings
tomatoes
feta cheese
kalamata olives
cucumbers
banana peppers
red onions
parsley, fresh
Greek Dressing
½ cup extra-virgin olive oil
½ cup red wine vinegar
3 tablespoons water
1 teaspoon sugar
1 Tablespoon each of: garlic powder, dried oregano, basil
1 teaspoon each of: kosher salt, ground pepper, onion powder
1 teaspoon Dijon mustard
Instructions
Add your favorite toppings to the lettuce salad.
To make the dressing, mix all ingredients together in a jar and shake vigorously.
Dressing keeps in the refrigerator for one month.
Cook's Tip: You can substitute 2 teaspoons fresh minced garlic for the garlic powder, just know that it won't keep as long in the refrigerator (just 7 days).
Recipe developed by Kelly Hancock ©2010 Faithful Provisions. For personal use only. May not be reproduced, reprinted or distributed for capital gain without prior permission from Kelly Hancock.