This is hands down the best way to make your daily Green Smoothie. I was totally unmotivated to pull together a green smoothie every morning because it took SO long to get all the ingredients prepped and cleaned up.
Then I realized not only is it easier to just put them in a large freezer bag and drop them in the blender, but it also tasted so much better when everything was frozen. So, then came my Green Smoothie Freezer Packs.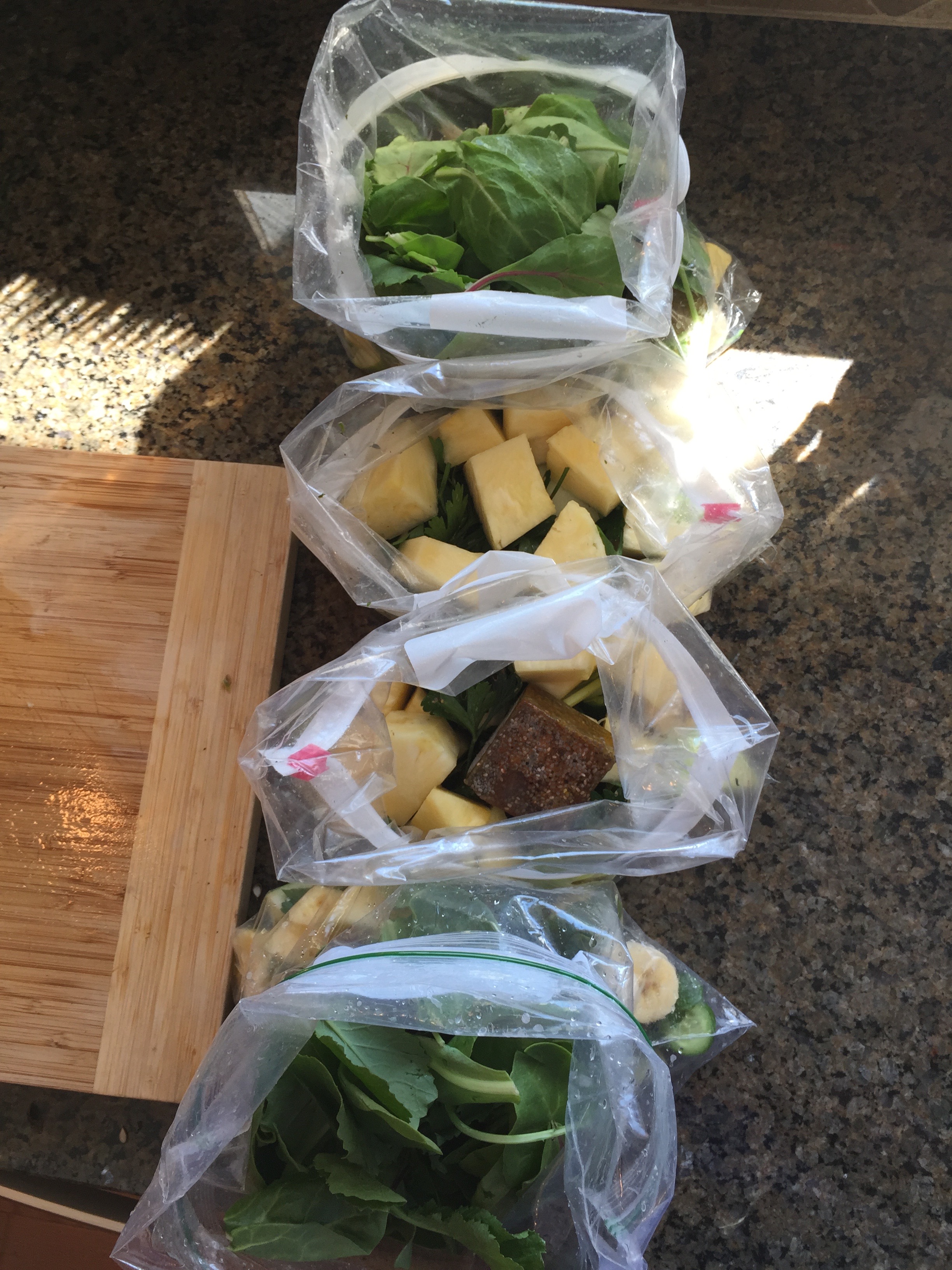 I even take it a step further and freeze the chia seeds and spices in ice cube trays to make it easier. You can see one in the picture above in the second pack from the bottom (its the reddish brown square). My goal is to dump the bag into the blender with some water and blend. It usually only takes one day per week for about 30 minutes to an hour and I have 6-7 freezer bags full of green smoothie goodness.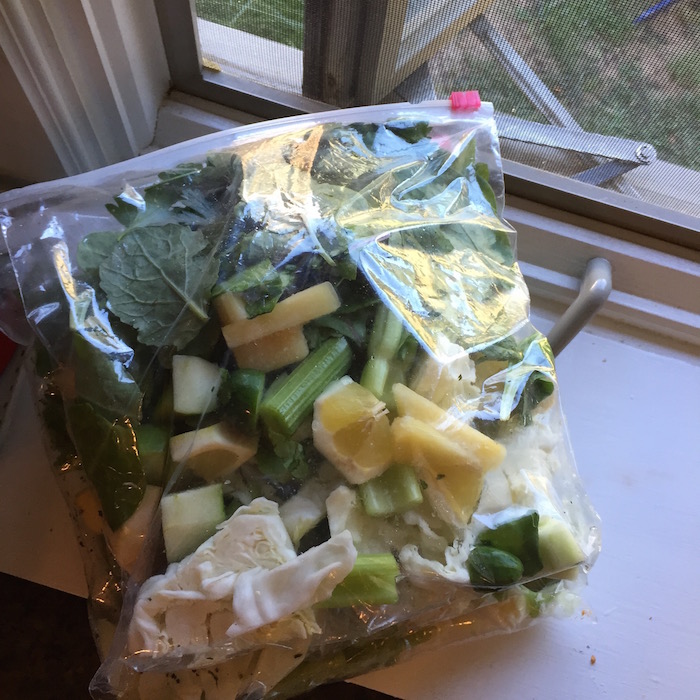 The beauty of a green smoothie is that you can add or remove anything you want or have on hand, the packet above even has some extra cabbage I still had in the fridge that I wanted to use up. The ingredients in this smoothie are great to help with daily detoxification and inflammation. I deal with chronic inflammation in my back and drinking a daily Green Smoothie really helps with my pain and mobility. And for this reason, I do not miss my daily Green Smoothie.
Smoothie Substitutions
Below is the recipe I prefer, but depending what I have on hand, I often substitute out the following items: cabbage, romaine lettuce, green apple, berries, papaya, limes and even melons.

Green Smoothie Freezer Packets
This recipe can be changed up to fit your personal tastes. Just multiply the recipe below by how many freezer bags you want to make. This bag below makes 4-5 8-oz smoothies.
Ingredients
2 handfuls of spinach or greens mix (kale, spinach, arugula, etc)
1 cup fresh herbs - Parsley & Mint are my favorite
1-2 bananas, sliced
2 inches ginger, peeled and diced
1-2 mini cucumbers, diced
1 celery stalk, chopped
½ lemon, peeled and cut in half
2 cups fresh pineapple, include core
1 teaspoon chia seeds
1 teaspoon turmeric
½ teaspoon cinnamon
dash of cayenne/red pepper
1 scoop protein powder (Garden of Life Vanilla is our favorite)
1-2 cups water (coconut water is best)
*organic, non-GMO ingredients are recommended
Instructions
Smoothie Freezer Packs
Place all items in a gallon freezer bag, and lay it down flat like a book and freeze. Be sure to squeeze out excess air.
Spice Cubes
Place turmeric, cinnamon, chia seeds and cayenne in an ice cube tray, fill with water and then gently stir. Freeze.
Once frozen, remove them and store in a gallon freezer bag or add to your smoothie packs.
To prepare smoothie:
Place all items in a high-powered blender and blend until smooth.
You might need to add more water depending on the consistency.
Enjoy!
What are your favorite Green Smoothie ingredients?