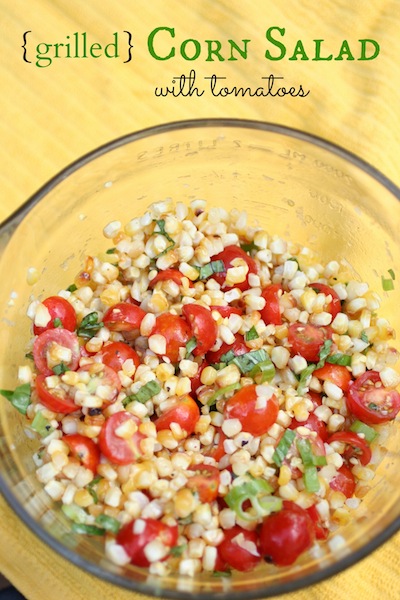 One of my favorite summertime vegetables is grilled corn. Toward the end of the summer, I find my garden is overflowing with cherry tomatoes and basil.
*Scroll down to use print recipe feature and add to your Recipe Box.
Since I always have some Red Wine Vinaigrette on the counter, it makes this salad a no-brainer and a cinch to make. It is great to make ahead and can be eaten alone or added on top of greens with a little extra dressing.
How to Grill Corn
I shuck and clean my corn, then rub it down with olive oil and sprinkle it with salt and pepper. Place corn on the grill on medium for about 5 minutes or until done. You'll know it's done when the kernels began to lightly brown and caramelize.
Grilled Corn Salad
Ingredients
5 ears of corn, grilled
1 pint cherry tomatoes, halved
2 green onions, chopped
3 tablespoons fresh basil, chopped
⅓ cup Red Wine Vinaigrette
Salt and fresh ground pepper, to taste
Instructions
Once the corn is cool, cut it off the cob and put into a serving bowl.
Toss with remaining ingredients and serve room temperature.
You might also like this recipe for Grilled Chile Lime Corn.
Recipe developed by Kelly Hancock ©2013 Faithful Provisions. For personal use only. May not be reproduced, reprinted or distributed for capital gain without prior permission from Kelly Hancock.