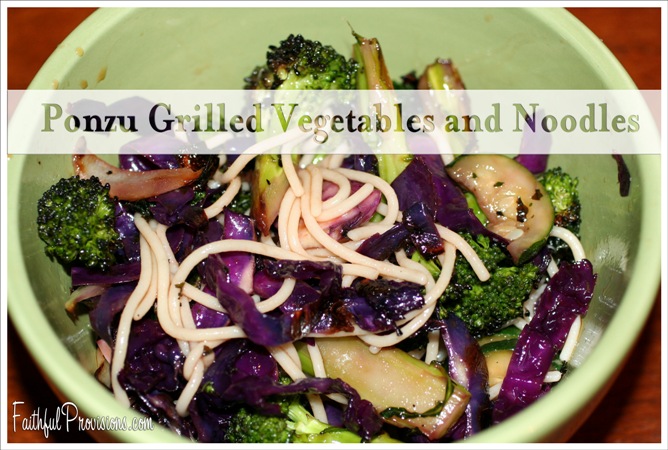 Grilled vegetables are really my all-time favorite. Since we have begun eating more healthy foods, I'm really upping the amount of fresh foods that I include in my meal planning. I find that recipes for vegetables on the grill add so much flavor, even without any type of added seasoning. This grilled vegetable recipe is definitely one that I go to often because you can change up the vegetables you are grilling with whatever is in season. You can see in the picture that I simply used what I had on hand this summer from my CSA box. Be creative when you are grilling vegetables.
*Scroll down to use print recipe feature and add to your Recipe Box.
Grilling Vegetables
Grilling vegetables is easy. I toss mine in grapeseed oil and then just salt and pepper to taste. (I don't use olive oil on the grill because olive oil is not healthy when cooked at high temperatures. It's best used raw. Grapeseed oil, however, is great at high temps, plus it doesn't interfere with the  flavor.) We use a grilling basket for easy clean-up. Try any of these veggies:
Peppers: red, green, banana, cubanelle, and jalapeno
Onions
Broccoli
Cauliflower
Squashes: zucchini and yellow
Eggplant
Cabbage: red or green
Greens: Swiss chard, kale
Carrots
Celery
Another way to make any grilled vegetables recipe your own is by switching up the sauce you use. What flavor? Bottled or homemade? As you can see, there are endless combinations so you are sure to create a unique dish for your family. That's the beauty of using grilled vegetables. I choose not to season at all, just make a big batch and then add sauce according to whatever flavor and seasoning I'm in the mood for.
Grilled Vegetables over Noodles with Ponzu Sauce
Ingredients
½ head of red cabbage, sliced
1 onion, sliced
½ bunch of kale, coarsely chopped
1 red pepper, cut into strips or chunks
1 head of broccoli, chopped
1 zucchini, sliced
2-3 tablespoons oil (grapeseed or canola)
Salt and pepper to taste
1 box of whole wheat noodles, cooked
A few dashes of ponzu sauce
Instructions
Take vegetables and toss with oil, salt and pepper to taste.
Place into grill basket.
Cook to your liking. (I like mine well done.)
Toss with noodles and ponzu sauce.
You can create individual servings or left everyone help themselves from a pretty platter or large serving bowl.
Recipe developed by Kelly Hancock ©2010 Faithful Provisions. For personal use only. May not be reproduced, reprinted or distributed for capital gain without prior permission from Kelly Hancock.