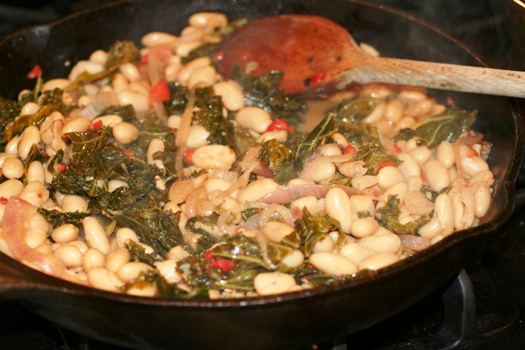 Are you wondering what to do with all your leftover ham from your Easter recipes? Since it is the day after Easter, I felt it was only fitting to do a Ham Recipe Exchange to help you all out with leftover ham ideas and recipes.
Ham and Cheese Quiche:  This is a perfect way to use leftover ham. In my opinion, the more ham you are able to use, the better the quiche will be.
Cuban Sandwich: I love these sandwiches! Using a baked ham enhances it with a really rich flavor.
Kale and Bean Ragout (pictured above): This is an already flavorful dish, but if you add in a cup or two of chopped ham as the base for the flavor, it takes it over the top!
============================
Have a recipe you would like to share either on your blog or elsewhere? If so, post the link below so that all the Faithful Provisions readers can easily find it. Be sure to make it easy to navigate by linking directly to your recipe post. Links going to the homepage of your blog or any other part of your blog besides the direct link to a recipe will be deleted. Posts promoting affiliate and referral links will be deleted.
Tip: Post the recipe name you are linking to in the link title. For example, Beef Wellington. Also, be sure to pick the matching image, it makes it so much easier to visually find the recipe you are looking for!
Find more great Easter Ideas on Faithful Provisions!