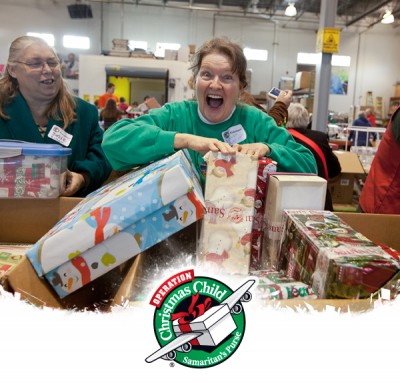 If you are looking for ways that you can help a child for Christmas, Operation Christmas Child has lots of things you can do. You can sponsor a child for Christmas by packing a shoe box, but you may also want to get involved on another level by volunteering at one of the Processing Centers. These huge facilities where they process the Christmas shoe boxes are in several different locations across the country. There might be one near you!
Atlanta, Georgia
Boone, North Carolina
Charlotte, North Carolina
Denver, Colorado
Honolulu, Hawaii
Minneapolis, Minnesota
Orange County, California
Sponsoring a Child for Christmas
While anyone can help with sponsoring a child for Christmas and packing a box, volunteers who help at the processing center must be at least 13 years old. Oh, how I wish they had a processing center here in my city! It is such a great organization to volunteer with. I'd love to hear from you if you have been to one of their centers before or if you're planning on registering to help this year. If you don't live near a processing center, have your own packing party for your Christmas shoebox project with your family, neighbors, or church group.
Register to Help for Christmas Boxes
You can easily register to help for Christmas boxes. They still have lots of room for helpers, so if your family, church, or any group (think home schoolers, Girl Scouts, Boy Scouts, ball team, neighborhood friends, Sunday school class, bowling team) would like to participate in this mission opportunity, please call this number (it's toll-free): 1-800-442-9120. You will listen to directions and then choose which facility you want and go from there.
Help the children in your life to understand more fully about Operation Christmas Child with these coloring crafts for Christmas shoeboxes for kids HERE.