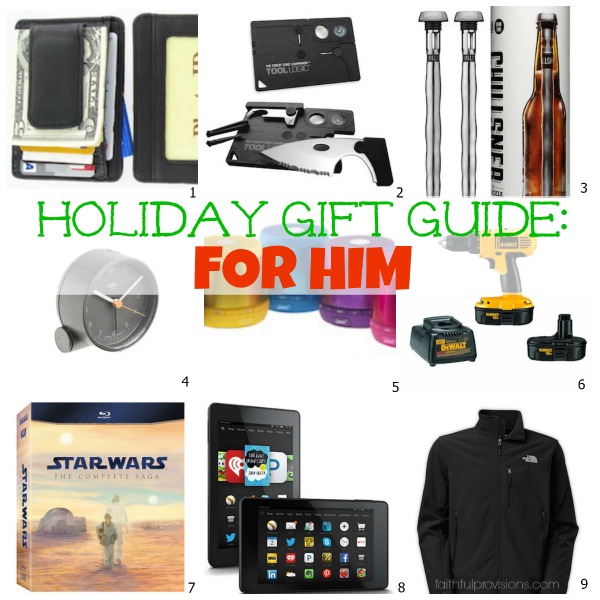 Holiday Gift Guide: For Him
I usually consider myself a pretty good gift-giver, with one exception: men. Am I the only one who thinks buying gifts for men is really difficult?! If you're stumped (like I was) on what to buy for the man on your Christmas list, I thought I would give you a little help. Hopefully these will provide some inspiration for anyone who might be "stumped" on gift ideas, or maybe procrastinating on buying their gifts.
This is a Gift Guide for Him.  For all the men in your life. I've tried to gather what I think are some pretty cool ideas. Not all of these will apply to everyone. Some of these ideas may even be more of a splurge for you, but maybe they could be a combined gift with other friends or family members. Thinking outside the box a little…
1. Wallets – Does your guy need to upgrade his wallet? If he doesn't want something as bulky as a wallet, a Money Band is a great option. My husband has carried a Money Clip for years. Make sure it has the magnet though, because other clips just snap off. If he prefers a more traditional wallet, this NFL Leather Wallet allows him to show his team spirit, without being tacky.
2. Credit Card Tool – At less than $15, this little tool is a winner in my book. Perfect for the "hard-to-buy" person on your list. I think this is incredibly cool. And very useful.
3. Corksicle Chiller – I realize that it's winter, but in the summer these are a must-have. It keeps any bottle drink ice cold. Ice…cold.
4. Alarm Clock – This alarm clock is great because it has a crescendo alarm, meaning you're woken up gradually, instead of being jolted awake. How great is that?! Go ahead and buy one for yourself while you're at it.
5. Bluetooth Speakers – These JAM Plus speakers are my favorite. They may be small, but they have some great sound. You can sync to 2 JAM speakers at once for true surround sound. They're lightweight and portable, which is perfect if you want to move inside or outside and want to carry your music with you from room to room. If you want to stream your music to one speaker, the JAM Classic speaker is a great alternative
6. DeWalt Tools – I'm not an expert on this subject, but I know my hubs loves his DeWalt tools. They can interchange the battery, so it makes it easy when you're switching tools. I figure if he has a tool he likes, then I don't feel as bad adding to the "honey-do" list, right?
7. Movies and TV – You can't go wrong with movies. All the men on my Christmas list love movie/tv shows. With prices from $5 to $100, there is something for every budget. Not a movie fan? Almost every TV show is now available on DVD/Blu-ray, so there's something for everyone.
8. Kindle Fire Tablet – There are a lot of options in this area, but we love our Kindle tablets.  They would be perfect for any reader on your list.
9. North Face – I'm not a big brand name buyer, but when it comes to winter-wear I will spend a little more. It's exhausting (and financially more expensive) to have to buy a new coat each season. This North Face coat is perfect for our Tennessee winters. If you're climate is a little colder, this North Face coat will keep him toasty warm.
SPLURGE GIFT: Beats Headphones.  Yes, I realize that this will not be in everybody's budget, but that's why I'm calling it a splurge. Everyone I know of that has these LOVES them. Since they are a pricier item, it may not be on everyone's list. However, if you have a music or movie fan, these are the way to go. They have excellent sound quality and clarity, are angled for a better fit and fold-up for easy transporting. If your guy travels or works out, these are a no-brainer!
What would you add to this list? What are some of your favorite gifts?
Be sure to checkout the full list of ideas in our new Holiday Gift Guide series!