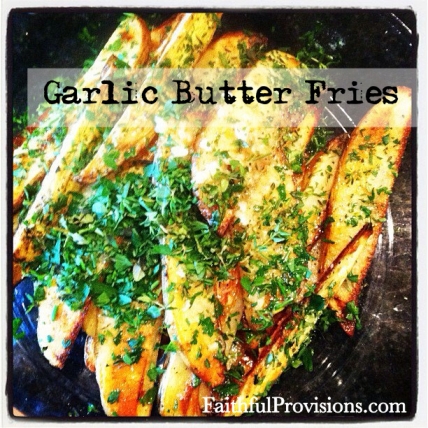 Even my kids ask for this Garlic Butter Home Fries recipe. Every time we make burgers, the first thing the kids ask is, "Mom, are you making the garlic butter fries?" They love them. There are never any leftovers.
*Scroll down to use print recipe feature and add to your Recipe Box.
How to Cook Home Fries
When it comes to how to cook home fries, there is one step that makes the key difference between making a good home fries recipe and making the best home fries recipe: Soak the potatoes in water–just tap water–for about five minutes. This will make certain that your fries are extra crispy!
Easy Home Fries Recipe
This easy home fries recipe eliminates not only calories but also a lot of the mess involved in making traditional home fries because you pop them into the oven to bake. So, while there is nothing even resembling French fries that can be considered low calorie (unfortunately!), oven-baking these fries is a much healthier option than frying them.
Garlic Butter Home Fries Recipe
Ingredients
2-3 large baking potatoes, cut into wedges
2 Tablespoons of oil (vegetable, canola, or grape seed)
2 Tablespoons of butter
1 Tablespoon of garlic, minced
1 Tablespoon of fresh parsley, chopped
1 Tablespoon of fresh chives, chopped
Instructions
Preheat oven to 475 degrees.
Put potato wedges in bowl of water for 5 minutes.
Drain.
Dry with a dish towel.
Put potatoes in bowl, drizzle with oil,and toss.
Sprinkle lightly with salt and pepper.
Place in single layer on a baking sheet (Use a Silpat Non-stick Baking Sheet if you have one.). Cover with foil.
Bake 10 minutes.
Remove foil and bake another 10 minutes.
Turn wedges over, then bake (uncovered) another 10 minutes.
In small sauce pan, melt butter and garlic on low to medium heat until just cooked through. (Do not overcook.)
When potatoes are finished, place in large serving bowl.
Toss with garlic and butter mixture and fresh herbs.
Enjoy your home fries with these delicious burgers. Recipes are in my Recipe Box HERE.
Caramelized Onion Gourmet Burger
Guacamole Burger
Bacon Cheeseburger Roll-Up
Recipe adapted from Jeff Mauro.