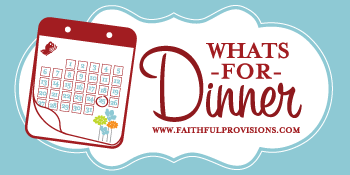 Tonight's Dinner Idea is BLT sandwiches. And I've been looking forward to it since I wrote this week's meal plan! We don't do bacon very often, but when my CSA box came loaded with the last of this summer's tomatoes, I knew we would have BLT's to kick off the weekend. If you grill the bacon, you actually do eliminate some of the fat, plus you will have nice, straight pieces for your sandwich.
Need a little inspiration? Check out my Recipe Box which is updated daily with new recipes!
=================================
Wondering what to make for dinner tonight? You'll love my money-saving recipes on what to cook for dinner! You are encouraged to not only list your dinner plans, but to request ideas and add your favorite recipes!