I have been wanting to make my own tortillas and with my new Wondermill Grain Mill. So, I tried some fresh milled tortillas. It was a bit time consuming, so you need to carve out a good 30 minutes or more just to cook the tortillas on the skillet  But, it is worth it! I have a post coming soon on all the benefits of fresh milled flour.
You can use this recipe with fresh milled or part white and wheat flours.  Also, to make this a little healthier you can use coconut oil, but if you don't have that, use another oil you have on hand.
Wheat Tortillas
5 cups fresh milled flour ( or 1 cup white and 4 cups wheat)
3/4 cup shortening, olive, canola or coconut oil
1 1/2 teaspoons salt
1 1/2 cups boiling water
1 cup flour (for rolling/flattening tortillas)
In a large bowl, mix all dry ingredients, add oil and mix.  I put mine in my Kitchen Aid using my dough hook attachment, or you can just do it by hand.
Pour in boiling water and continue mixing until dough is smooth, add flour if dough is too sticky to touch.
Roll out approximately 40 balls the size of golf balls and place them on a cookie sheet.  Cover with a clean dish towel and let it sit for about an hour.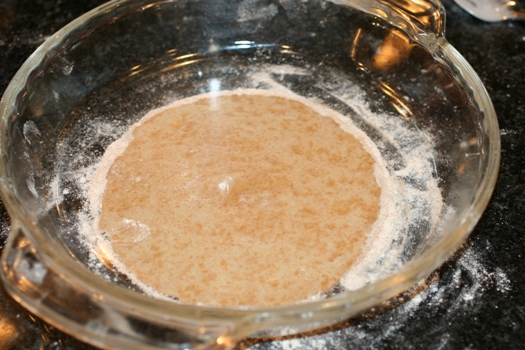 Flour your surface, and one dough ball.  Place a pie pan on top and press out until it is paper thin.  You can almost see through it and it feels like it will fall apart when you pull it off the bottom of the pan.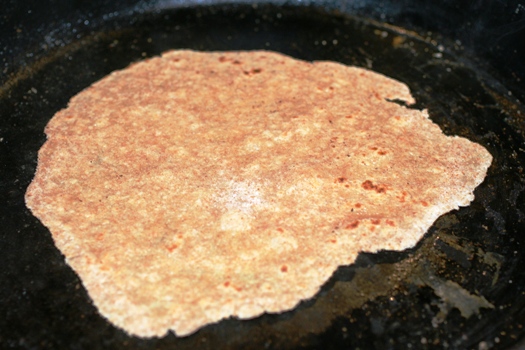 Heat a cast iron or large skillet to high heat and drop one tortilla at a time.  Cook on each side for about 30 seconds. Repeat this step with remaining dough balls.
Store uneaten tortillas tightly sealed in the refrigerator.
Tip:  To reheat, place tortillas in aluminum foil and put a damp paper towel inside.  Heat in the oven for about 5 minutes and tortillas will come out soft and warm.  Perfect for rolling up fajitas!
Print Recipe: Click on the green "print friendly" icon at the bottom of this post, and check "remove images" for a printable version.
Recipe developed by Kelly Hancock ©2010 Faithful Provisions. For personal use only. May not be reproduced, reprinted or distributed for capital gain without prior permission from Kelly Hancock.