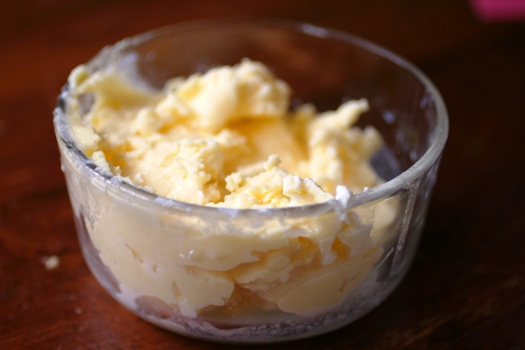 Home made butter is much better tasting than store bought — by far. Plus it is really easy to make.  Since we have started trying to eat more healthy on our budget, I have started trying to buy organic butter, and that can get a little pricey, but definitely worth it!
I found a $.75/1 Organic Valley Whipping Cream printable, so I went to Harris Teeter and was able to get these for only around $.75 per carton! Score!!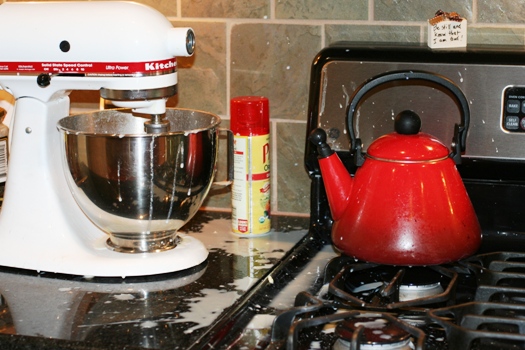 See that huge mess, be sure to watch the butter and not leave it whipping while you go into the other room.  I heard this loud sloshing and went into the kitchen to find this mess.
Homemade Butter
whipping cream
salt (optional)
Pour the cream into a bowl and beat in either a stand mixer, like a Kitchen Aid, or a hand mixer for about 5 minutes.
As you can see above, don't leave it alone, be sure to watch it once it starts thickening up.  It will cling to the whisk like the picture below.
Once the butter is solid and yellowy, put it into a container to put into the refrigerator.  Be sure to drain all the buttercream off and save it to make homemade pancakes or something that uses buttermilk.  The best buttermilk you will ever have!
Before you put it into the refrigerator, add salt if desired, stir and then chill.
Print Recipe: Click on the green "print friendly" icon at the bottom of this post, and check "remove images" for a printable version.
Recipe developed by Kelly Hancock ©2010 Faithful Provisions. For personal use only. May not be reproduced, reprinted or distributed for capital gain without prior permission from Kelly Hancock.