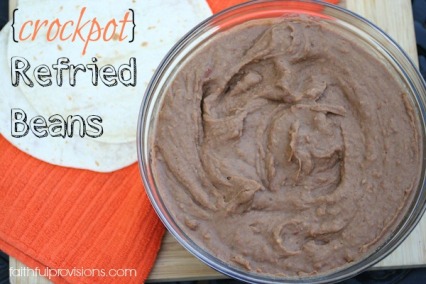 While it's often really easy to snag a sale on refried beans, I love making this recipe for Homemade Refried Beans. When I make it myself, I know exactly what is going in the recipe, and in the tummies around my table. Also, no metal cans, which is a huge plus!
Using the Crock Pot for Homemade Refried Beans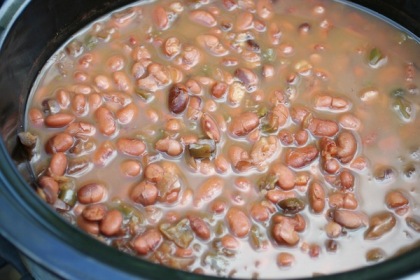 Using my crock pot for refried beans makes life so much simpler! I don't have to worry about burning them or cooking them too fast, and the flavors blend together perfectly.
Homemade Refried Beans
Ingredients
3 cups dry pinto beans, washed and sifted for rocks 🙂
8 cups water
1 onion, chopped
1 green pepper, chopped
1 jalapeno, chopped and seeded
1 teaspoon cumin
1 teaspoon chili powder
1 teaspoon salt
Instructions
Drop everything into a crock pot and cook on low for 6-8 hours.
Once cooked, strain out beans into a large glass bowl.
Puree using an immersion blender.
Season to taste with salt (it will need a lot)
How to Freeze Homemade Refried Beans
I love to have these on hand for just about every mexican dish I make. But my favorite is on nachos! Take pureed beans and place into freezer bags in 1 cup increments. Get all the air out of the bag and press so that it lies flat (like a book) and freeze to use later. To thaw, simply put the frozen bag of beans in cold water.
You might like this recipe for Homemade Refried Beans with these dishes: