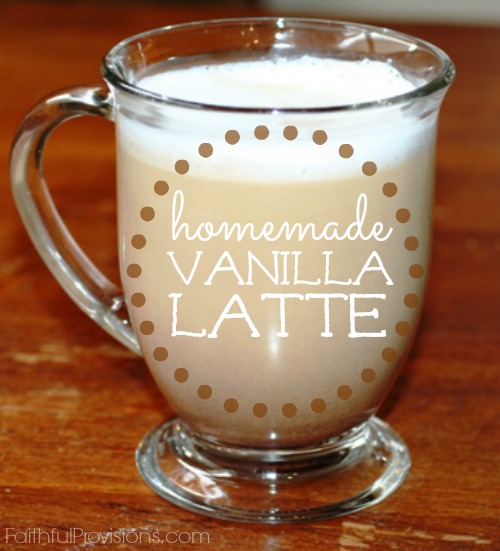 My favorite thing to do mid afternoon, say around 2pm, is to relax with a book and a warm drink, like a warm, sweet, creamy latte. But I am not usually able to run down to Starbucks and grab one because, if I have timed it right, one child is asleep and the other is in quiet time.
So I have learned to improvise and a few kitchen tools have allowed me to make my very own Vanilla Latte at home. I use a single French Press for my coffee, but you can just make a strong pot of coffee and it will work just fine.  The other item I use is a Magic Bullet. You just need something that will blend the milk to make it frothy.  If you have a milk frother or espresso maker with a steamer attachment, that is even better.
Homemade Vanilla Latte
Ingredients
¼ cup milk (the higher fat, the better!)
⅛ cup french vanilla creamer
strong coffee
Instructions
Froth the milk and creamer using something like a Magic Bullet, milk frother or an espresso maker with a steamer attachment.
Pour into a coffee mug and heat in microwave for about 30 seconds. Your cup should be about half full with creamer and milk mixture.
Fill the rest of the glass with strong coffee, or espresso type coffee mixture.
You will have a nice cafe style latte without the cost!
Recipe developed by Kelly Hancock ©2010 Faithful Provisions. For personal use only. May not be reproduced, reprinted or distributed for capital gain without prior permission from Kelly Hancock.