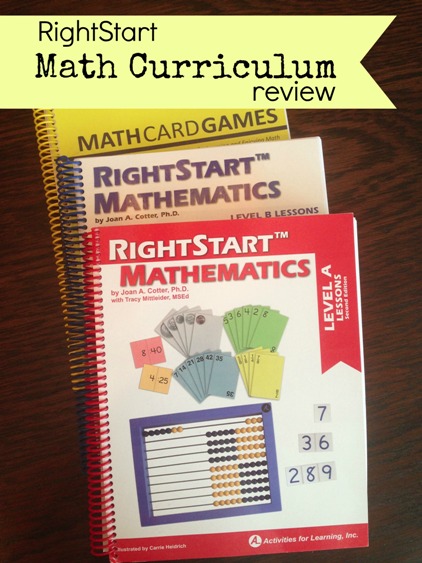 So far in my journey of homeschooling for the last two years, my greatest challenge has been finding the right math curriculum for my daughter–a warm, creative spirit. We stopped and started several different math programs, many of which came highly recommended by friends. But that's the trick with curriculum–just because a certain program works for one family doesn't mean it's going to work for another. And for us, rather than getting closer to something that worked, I just had a stressed-out child who was not enjoying math. So I took another turn and started using different math games to get her excited about math and to make it fun rather than something that she dreaded every day. This didn't solve my problem either. She was memorizing, but she wasn't learning.
CAN YOU RELATE? My strength is math. For me, it's always been really easy. I made straight A's all through school, and even took honors math courses in college.  And because it is so simple for me, that's been a hindrance in teaching a child for whom all things math are difficult.
But this past summer, we borrowed RightStart Math from a friend. Because I felt like I was on a losing streak, I wanted to try it before I invested in it. Well, to say my kids enjoyed it, is an understatement. Each morning (during the summer, I might add) they were asking if we were going to do math!! I became so curious about what made RightStart work for them that I called the company and talked to Kathleen Lawler, daughter of RightStart founder, Joan Cotter. What a great conversation!
The first thing Kathleen did was encourage me. "People who tend to be very good in math are the ones who are the worst teachers," she explained. "You look at it and think, Everyone can see that. But everyone can't. It's not a reflection of you, it's just the way you're wired."
For my kindergarten son, I'm using RightStart Level A, 2nd edition. With my 2nd grade daughter, I'm using RightStart Level B, 1st edition. Personally, I like the layout of the 2nd edition. It's easier to read in that it is a better visual format. Content-wise, there is not a huge difference between the first and second editions, for me, it's that mostly the layout is different. I have found that the 2nd edition is easier to teach from.
There are lots of things that I really like and appreciate about RightStart Math. Your student learns the same information through many different formats so that it sinks in. There are lots of games and hands-on activities so that your kinesthetic learner can absorb the information right alongside a visual or audio learner. So many things are brought in to facilitate learning–there are no gaps. I love the fun repetition–songs start each lesson. My kids are learning every facet of math, and my Type A wiring that wants everything checked off loves that! Math has turned into a fun time for us–finally!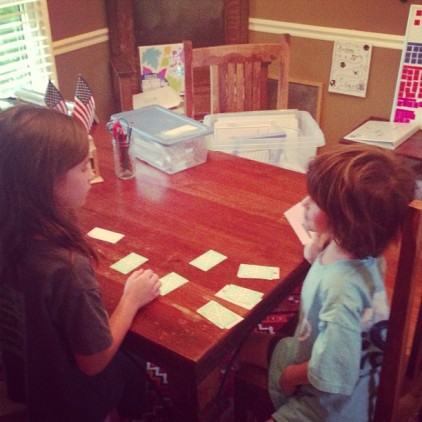 If you are wanting a very independent math program for your young elementary students, this is not it. "We do have some games that they can do on their own, but you as the mom have to do it. You will be spending 30-35 minutes a day with your child—one hour tops with a child who might have an attention problem," Kathleen explained to me. I have found that it takes us between 15 to 20 minutes depending on the lesson.
"You have to have your math or you will be handicapped," Kathleen said. "You have to put your time into reading, math, and morals. You put your time in now, for five years or so, so that later they can go on and do it on their own. With our RightStart Math, you have to put the time in now. But it's just one of those things that has to be done." I agree. There's no skipping around on the basics of math. And it's not something that your young kids can do without you.
How did I find the right math curriculum? Trial and error, mainly! But I do wish I had found RightStart Math first.
See all my curriculum choices for 2013-2014 on Faithful Provisions.