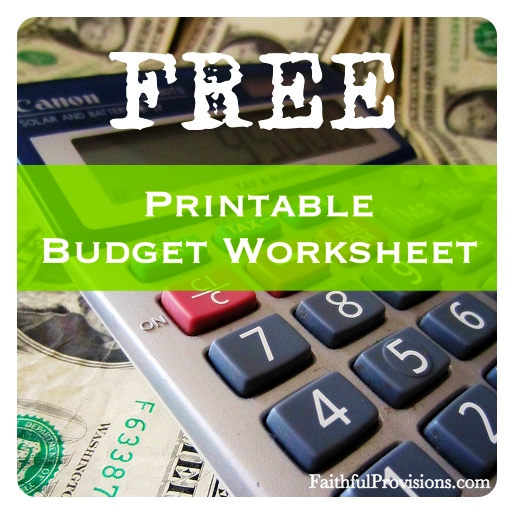 Now is a great time to sit down with your spouse and make up a budget. I know a lot of you think of the word "budget" as being limiting or terrible or just a plain nuisance, but that's simply not true. A budget is a tool–just like couponing or menu-planning–that can lead to big savings for you and your family. And now, Faithful Provisions is excited to show you how to budget using this FREE printable Budget Worksheet with step-by-step instructions for filling it out. Easy and user-friendly, this How to Budget worksheet is ready to download and then be personalized by you.
::  Download the FREE Printable How to Budget Worksheet HERE.
Tips for How to Budget
Review your budget at the end of every month. This is the best time to look at the past month, and review your goals for the upcoming month.
Look at your calendar. What is going on during the month ahead? Are there any special items you need to budget for? Things like:
A child's birthday party
A family member's birthday gift
Date night: your plans for an evening out plus money for a baby sitter
A special offering at church
You can look at past months or even last year's calendar to get an idea of the different expenses you may have coming up.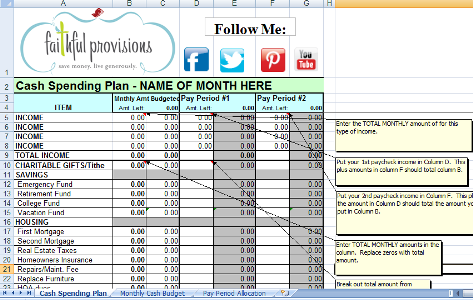 How to use the "How to Budget" Worksheet
Using this budget couldn't be easier.
Download the FREE Printable Faithful Provisions How to Budget Worksheet.
Follow the pop-up instructions as you fill in your income and expenses. (Instructions will pop up as you hover over the cells.) You'll find that everything is mapped out for you and easy to navigate.
Ask any questions by commenting on this post.
If you have questions, please ask! I am striving to be here to help you and answer those important questions as you create a budget and set your own goals for sticking to it this year.
You might like these articles:
Plus, find more FREE Tools for Budgeting and Planning HERE.