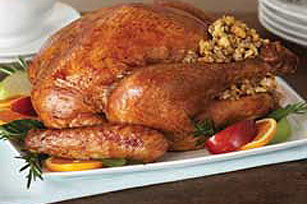 Wondering how to buy a turkey? It seems difficult, but I think there's a way to make it a bit easier. I was at the grocery store recently and watched a lady struggling over her turkey purchase, not sure what size she wanted or how many it would feed. There are lots of other things that we moms need to be tending to in the coming days, so let's take care of the size turkey you need to buy right now.
What size turkey do I need?
Here are a few tips to help you purchase your turkey this year and give you some insight into what size turkey you will need.
1 to 1.3 lbs per person, if you want leftovers.
1/2 to 3/4 lbs per person for turkey breast only (not a whole bird).
The larger the bird, the higher the proportion of meat to bone.
Don't forget to save your turkey carcass and leftovers to make this wonderful After Thanksgiving Turkey Soup.
Where can I get a good deal on a turkey?
The best prices and selection on turkeys will be during the first two weeks of November, so snag yours then before they are gone. Typically, you will see the price go up the closer it gets to Thanksgiving Thursday. Check our Faithful Provisions daily newsletter for the best prices on turkeys at your favorite grocery stores. We will keep you posted.
Where have you found the best deal on a turkey this year? Have you noticed that the prices are better than, equal to, or more expensive than last year?