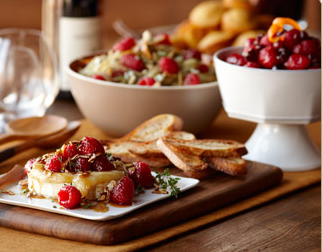 It's time to pull out the recipes for those family favorites and be sure you have all the ingredients. Now is a great time to not only get what you need for your traditional meal, but also stock up on baking supplies and other foods that only go on sale this time of year. (Be sure to check out my post on the Seasonal Sales Cycle: November.)
So what are you planning? Do you cook everything and host the meal? Do you take your specialty to someone's home for a family gathering? Do you focus on side dishes or on desserts? Here are my favorite Thanksgiving recipes.
APPETIZERS
SIDES
SALADS
SOUPS
BREADS
DESSERTS
Be sure to get organized for your Thanksgiving dinner with my new Shopping Lists. If there's one thing that drives me crazy, it's having to go back to the grocery for something that I have forgotten. The more organized I can be, the more I can enjoy spending this holiday with my family and friends.
What are your favorite dishes? What will you be making that you always make? And what will you be making for the first time? Please share your Thanksgiving Recipes with the Faithful Provisions community below.
============================
Have a recipe you would like to share either on your blog or elsewhere? If so, post the link below so that all the Faithful Provisions readers can easily find it. Be sure to make it easy to navigate by linking directly to your recipe post. Links going to the homepage of your blog or any other part of your blog besides the direct link to a recipe will be deleted. Posts promoting affiliate and referral links will be deleted.
Tip: Post the recipe name you are linking to in the link title. For example, Beef Wellington. Also, be sure to pick the matching image, it makes it so much easier to visually find the recipe you are looking for!
Photo source: Driscoll's