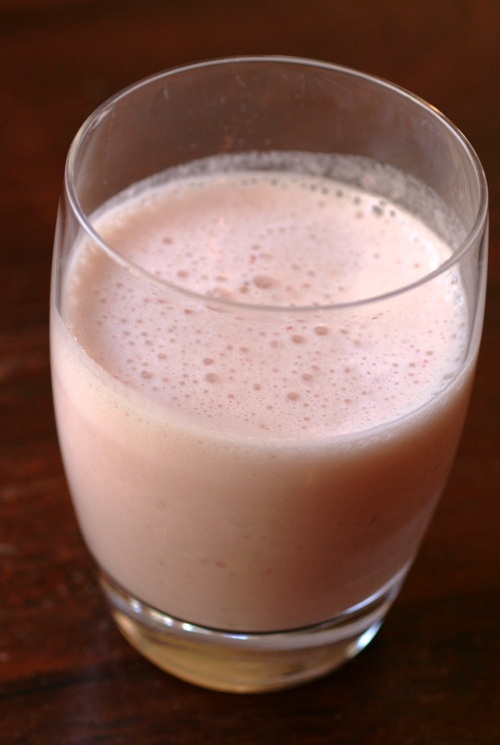 We love smoothies around here, and I wanted to put up a recipe to show you how to make an Any Fruit smoothie, using whatever fruit is in season and on sale. (See my FREE downloadable chart, Seasonal Fruits and Vegetables HERE.) The wonderful thing about smoothies is that there really aren't any hard and fast rules to making them. That's also the tricky part LOL, because getting down the exact measurements and even ingredients is not so much a science as it is an art.
*Scroll down to use print recipe feature and add to your Recipe Box.
Now, my favorite way (and I think the easiest way) to make these is with my Magic Bullet. However, if you are using a regular blender, just be sure you don't overfill it. You want to put in just enough ingredients so that your blender can move quickly into full circulation mode in about 30-45 seconds.
LOTS OF OPTIONS
Try any of these fruits for your Any Fruit Smoothie:
Apples
Apricots
Bananas
Blueberries
Grapes
Kiwis
Mangoes
Nectarines
Oranges
Papayas
Peaches
Plums
Pineapples
Strawberry
Besides the flexibility of using any fruit to make a smoothie, there are tons of foods and supplements that you can incorporate to add lots of great nutrients without ever changing the taste.
Flax Seed – Ground or Oil (ground gives it a little "nutty" taste)
Spinach Juice – Just a little adds a big punch!
Whey – See my post, "Whey" Cool Uses for Whey
Pureed Vegetables – Carrots, cauliflower, beets, and more!
How to Make an "Any Fruit" Smoothie
Ingredients
2 cups of Any Fruit - At least one cup of the fruit needs to be frozen. If you don't have frozen fruit on hand, substitute a cup of ice for a cup of fruit.
½ – 1 frozen banana (TIP: Peel overripe bananas, place in freezer bags, and store in the freezer to use for your smoothies.)
OPTIONAL: Add a handful of kale, spinach, whey, or flax seed to boost the nutritional value.
Liquid - milk, orange juice, or other fruit juice
Instructions
Put first three ingredients in blender or Magic Bullet
Add liquid until it just covers the top of your ingredients.
Blend for 30-45 seconds or until desired consistency.
Serve immediately.
You might also like:
Recipe developed by Kelly Hancock ©2010 Faithful Provisions. For personal use only. May not be reproduced, reprinted or distributed for capital gain without prior permission from Kelly Hancock.