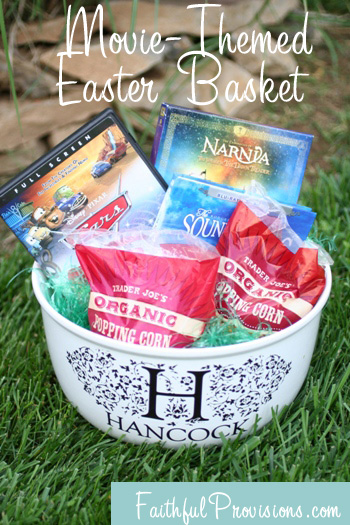 I get lots of questions from my readers asking how to make Easter baskets. I personally think that when it comes to making Easter baskets, it is going to be easier to think and plan around a theme. That will center your basket and actually help you come up with some great ideas.
This is a favorite Easter basket to make for adults or older kids. After all, who doesn't like a movie?  You could make this movie-themed Easter basket idea a few different ways.  The main thing is to keep it fun, not expensive! Think outside the box (or basket!) and check your local store's clearance aisles. You never know what you will find.
Here are a few things you could put into a movie-themed Easter basket:
Popcorn Bowl – Use any widemouthed popcorn sized bowl to hold all treats. This could even be a plastic bucket.
Movies – I usually find these for $5 or less new, but you could check out a consignment sale or even a thrift store for some great titles.
Movie Tickets – There are frequently movie deals on daily deal sites, or around town.  Keep an eye out.
Popcorn Kernels – we love using our Whirley-Pop Stovetop Popcorn Popper to make Homemade Popcorn, so our pick will be a movie at home.
Microwave Popcorn Packages – You can usually find these on sale all the time at your local grocery.
Popcorn Flavorings – Usually you can find these in stores like TJ Maxx or Marshalls for really cheap prices.
Candy Boxes – Check out your local dollar store for your loved ones' favorite movie-size candy boxes.
Soft Drinks – Tuck in a 16 ounce soda to go with that popcorn!
Blanket or Snuggie – This would be great for cuddling.
I would love to hear about your favorite "themed" Easter basket ideas for adults or older kids. Please leave them in the comments below.
See lots more Easter Basket Ideas on Faithful Provisions!