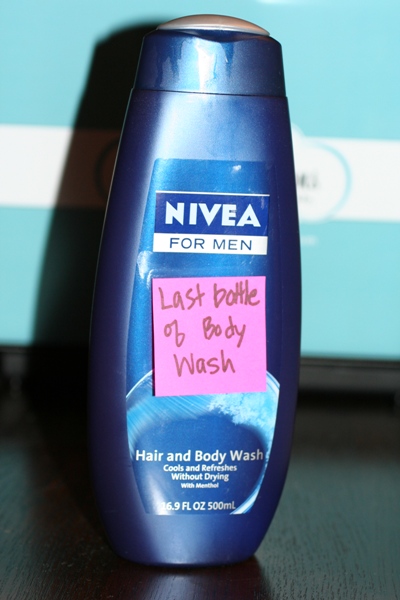 Today while at a workshop over at the Lifeway Brown Bag Lunch-n-Learn this morning, I learned a great trick to prevent running out of our stockpile items.
One of the biggest challenges I face is getting my family to let me know when we are almost out of an item so I can put it on my shopping list. I won't say how is the biggest offender.  (Hint: There is a clue in the picture above!)  I typically get a "we're out of body wash", when we are already out.  I prefer to know when we have one bottle left, so that leaves me plenty of time to find it on sale before we run out.
A huge thanks to Alice for this great tip!
Label the last (or second to last depending on the product) of an item in the stash with a post-it with something like "last bottle of body wash" written on it.  When someone takes that from the stash they can leave it for you in a convenient place such as your bathroom mirror, the fridge or the family calendar.  Where ever works for you and they will actually put it.  Sometimes the post-it needs a little helper tape or rubber band to stay on the product.  We've been using this system for a long time and it works like a charm.  Haven't had a "we're out of shampoo" in forever.
Do you have a great tip you'd like to share? Email me any tips you use to save money or stay on track in your budgeting to kelly (at) faithfulprovisions (dot) com.