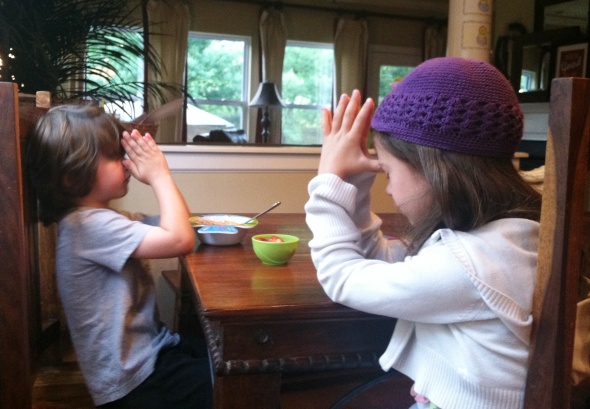 Our children are in competition to see who gets to pray at every meal. Honestly, it becomes a fight as to who will get to pray. It has even gone so far as this: Someone sits down and starts to pray out loud while the whole family is doing other things. In addition, prayers frequently start way after the kids have started eating, since they sit down first. As you can probably imagine, this is not how we want our children to behave–and especially not when it comes to thanking the Father.
Self-control and a right spirit are areas we really need to work on.
So, in order to get back to the spirit of why we pray and how it should look, we set up some "rules" to get around the fighting. Are we the only ones who have this happen? I hope not…
Our desire is to teach our children self-control and for them to better understand why we are praying, not see who can pray first!
This idea was one that our children actually came up with. The new rule is: The most patient person gets to pray–the person who has been sitting quietly and has not started eating his/her meal. Let me tell you, this is quite a feat in our home some days. But I am happy to say it has been working beautifully!
Now, I don't want you to read this and see it as a very legalistic, strict way to get to prayer. When it comes to my children, I have learned they need rules and parameters so they can get a sense of how things need to work. My children desperately needed to learn self-control, and this little tool has helped them understand and practice it three times each day!
I am amazed at how satan gets in there and changes even the most innocent of situations. But I love how it turned into such a great teaching opportunity for us.
Anyone else have a great tool they used to change the atmosphere in their home around times like prayer? I would love to know!