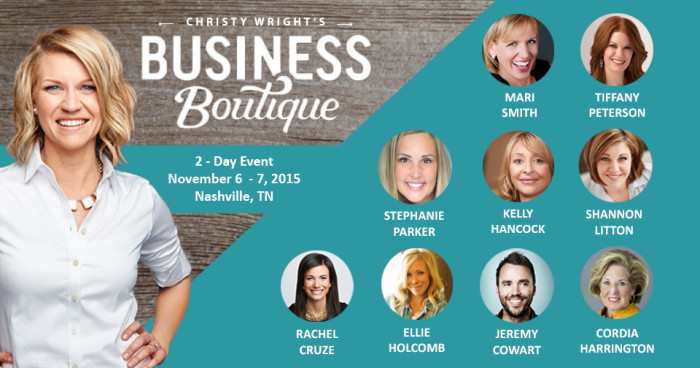 Do you have the passion to turn your dreams into a business, but no plan?
Have you brought your dream to life, worked hard but need a little direction getting to the next step?
Do you have a hobby that you'd like to turn into additional income for you and your family?
Have you already started a side business using your talents and skills?
If so, we want to help you grow. You've got the passion—we've got the plan!
Dave Ramsey has a new Women's Event he is launching, 
Business Boutique with Christy Bright
 — 
Equipping Women to Make Money Doing What They Love.
 This event will be in Nashville, TN on Friday and Saturday, November 5 & 6, 2015.
I will be leading 3 breakout sessions on Blogging, sharing tips and resources on how we launched and maintain Faithful Provisions on a very minimal budget. In addition, I'll be on a marketing panel talking about all the ways to market yourself online. I would love to see you there.Learn more about the event below from Christy.
I am so incredibly excited to be part of this event and taste of the speaker lineup includes:
Rachel Cruze – Dave Ramsey's Daughter (& Best Selling Author)
Mari Smith – social media expert, referred to as "The Queen of Facebook"
Tiffany Peterson – seasoned speaker and international coach
Jeremy Cowart – named Most Influential Photographer on the Internet
Ellie Holcomb – Dove Award Winner
and many more!
Business Boutique $20 Off Coupon Code
Use code KellyGuest at checkout to receive $20 off your ticket (excludes VIP).