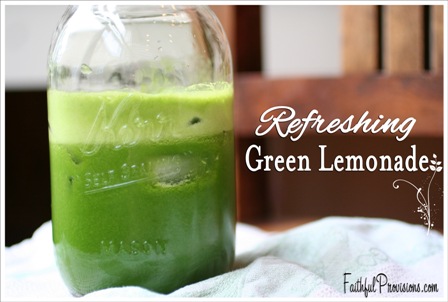 One of the things that we have started to incorporate into our daily routine is juicing. This is not the first time we have tried juicing recipes like this Green Lemonade recipe. I started juicing years ago, only to stop due to the cost and the amount of work associated with it. Even at that time, it was more of a novelty—the trendy thing to do. Since then, after lots of research and major lifestyle changes, I now greatly understand the importance of healthy, nutritious foods. Today, the cost of time and money doesn't bother me as much because I see the benefits and consider it an investment.
For me, I juice to get nutrients in my body that I normally can't get from foods. It allows me to consume a quantity of vegetables that I normally wouldn't in one day's time. (There are tons of juicers on the market, and right now, I'm using an old one. When I do buy one, I'm going to get a Breville.)
So when I'm juicing, I'm looking for recipes that have a little less fruit and a little more vegetables. Here is my absolute favorite juicing recipe that I drink in the morning for breakfast or as an afternoon pick me up. I used to drink coffee, but now I'm reaching for juice!
Juicing Recipes | Green Lemonade Recipe
Ingredients
½ of one lemon
2-3 apples
½ bunch of kale (about 4-5 stalks)
2-3 stalks of celery
2 large handfuls of spinach
1 inch of ginger (optional)
Instructions
Juice and enjoy!
Nutrition Information
Serving size:
3 8-ounce servings